With the ability to add social sharing buttons in five different locations, choose from over twenty Social Networks and pick from three automatic pop-up and fly-in triggers, the Monarch plugin provides you with an embarrassment of riches.
Monarch gives you all the great looking technical wizardry but you still have to decide which combination of locations and features will grab your visitor's attention and get you the most shares.
Fortunately you don't have to rely on your own social sharing preferences and prejudices because Monarch gives you the tools to make your choice based on solid stats instead of gut feeling.

My Affiliate Links Disclosure
Hi everyone. Just to let you know that many of the links on this site are my affiliate links. What that means is that if you click one of them and buy something… I get a commission. It doesn't cost you anything extra so I hope that you will use my links.
An overview of Monarch's social sharing stats
This short video by Nick Roach of Elegant Themes provides a great overview of the stats functionality in the Monarch plugin. It shows you how to access your stats, tells you what they show and gives a few pointers on how to use them to gauge the effectiveness of your settings.
This video is one of the videos which are included in the Monarch plugin documentation.
Viewing, interpreting and using your social stats to check the effectiveness of your campaign is easy with Monarch, but here are the key points highlighted in the video:
Accessing your stats
To access your stats go to Tools > Monarch Settings in your WordPress dashboard and click the first of the two buttons at the top right – that takes you to your stats panel where you get an overview of all your sharing and following activities done via Monarch on your website.
Check your sharing stats
Hover over the various areas of the bar charts and the social sharing platform and number of shares on that platform will be displayed.
Using your stats in a social media campaign
The best way to use Monarch to gauge the effectiveness of the various settings in your social media campaign is to add elements one at a time and then check your stats to see what effect each element has.
For instance you could add inline sharing buttons and after a few days add the floating sidebar and then the popup and see which get the most results.
With a little experimentation you can find answers to questions such as:
Is a floating sidebar better than inline buttons?
Which social networks get you the most shares?
Has using pop-up and fly-in increased or decreased the number of shares you get?
Nobody wants to spend hours and hours poring over statistics and Monarch has got the stats display about right.
From your stats page you can get an insight into what's working and what's not working, which allows you to spot trends across your various social sharing networks, make changes and monitor results.
What information can you get from your Monarch stats
The idea of the Monarch stats page is to provide you with feedback and let you know how well your social campaign is going.
To make it easy to interpret, the stats are broken down into two sections: All-Time Stats and Day, Week, Month, Year Stats.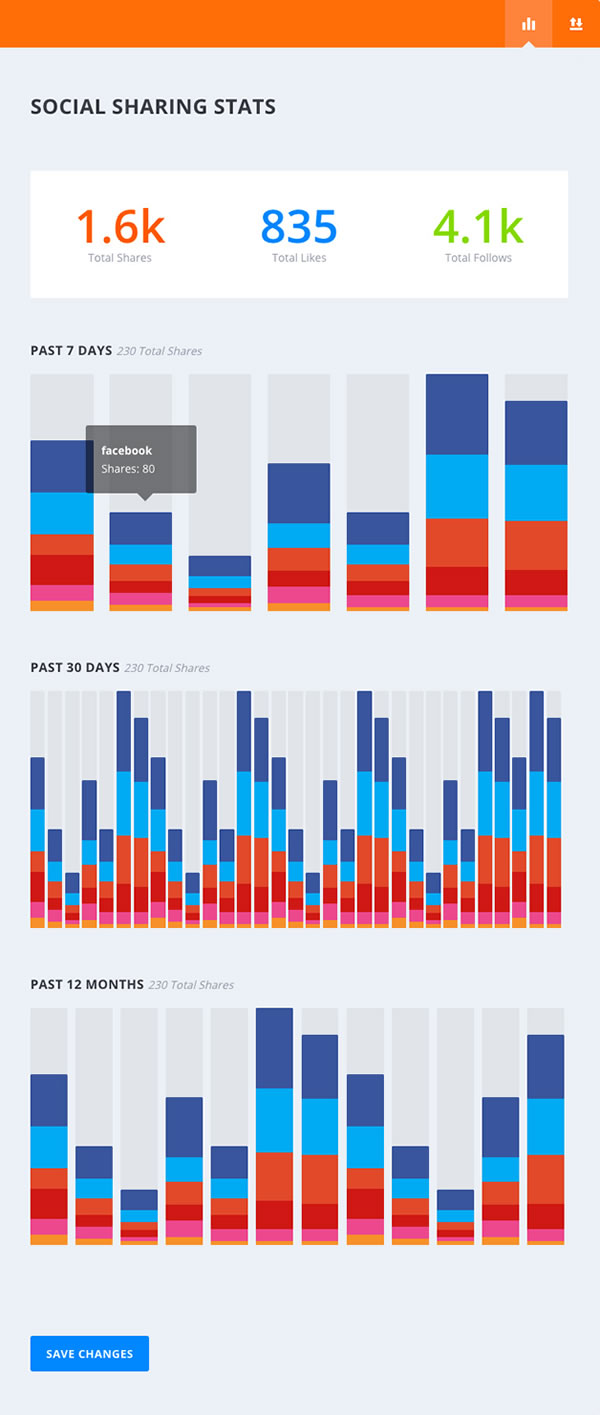 All-Time Stats
Total Shares – displays your all time share count across all social networks.
Total Likes – the all-time stat of users who have simply 'Liked' a page.
Total Follows – displays the sum of followers across all of your social profiles.
Day, Week, Month, Year Stats
Past 7 Days – an overview of your sharing stats over the past week.
Past 30 Days – your past month of Monarch sharing statistics.
Past 12 Months – a month by month breakdown of the past 12 months of sharing statistics.
The Monarch stats page gives you an easy "at a glance" view of all your stats, which means that you don't have to spend time jumping from screen to screen and trying to work out what all the figures mean.
All you have to do is add social elements (sharing buttons, fly-ins etc.) one at a time, monitor results via your stats, modify to suit and your campaign should really start to take off.
Check Your Share and Follow Statistics
We know how important it is to see how effective your social sharing buttons are on your website, so we built in an easy way to keep track of your user engagement over time.
This dashboard can be accessed by the stats icon in the top bar of the Monarch Dashboard.
Monitor and modify your social media campaign with Monarch stats
If you'd like to be able to monitor your social media campaign using rock solid data but without drowning in a sea of tables, charts, graphs and statistics then Monarch is the plugin you've been looking for.
Let Monarch's stats show you the best location for your social buttons, which social platforms get you the most shares and if using pop-ups and fly-ins are as effective as the social media gurus claims.
To start monitoring your social media marketing campaign with the Monarch plugin, sign up with Elegant Themes, download your copy of Monarch and start planning that campaign today.
Boost Your Social Following
Whether you are a large company, small business, or an individual, it is becoming more and more important to build and retain a social following. Monarch lets you connect your website to all of your social profiles to display your social networks and follow counts.
I hope that you enjoyed the post and if you have any thoughts about Media Sharing stats in general or the Monarch stats in particular please leave a comment and if you'd like to spread the word about this fabulous plugin, please use the social sharing icons below… Monarch of course.
Credits:
My thanks and gratitude to Elegant Themes for the video, graphics and details of the Monarch plugin stats used in this post.