I've just installed Monarch, the new social share and follow plugin from Elegant Themes… and I absolutely love it.
If you take a look round the site you'll see that I've added a floating social sidebar on the LHS of both pages and posts, share icons beneath posts and follow icons in the sidebar. I'm still playing with layouts and colours so they'll probably change during the writing of this post and even after it's published.
Before Monarch I had to use separate plugins for Sharing and Following and a third plugin to add a floating sidebar. But now I can do everything with one plugin and all from one dashboard.

I just downloaded Monarch and I love it already. It looks great on my site, is easy to use and will most likely increase social shares like crazy. Thanks Nick & ET Team.
Adam Binder – Elegant Themes Blog
Monarch plugin introduction and overview
Monarch is a social share and social follow plugin that has a built-in statistics page, which allows you to check how well your sharing and following is doing.
It allows you to customise the appearance, locations and functionality of your sharing and following buttons, via a user friendly dashboard, to perfectly match your requirements and site appearance.
This short video by Nick Roach of Elegant Themes is a great introduction to what Monarch can do:

Say goodbye to all those ugly sharing badges that destroyed your site's appearance and dragged down your loading speeds and start using the gorgeous Monarch share/follow buttons that look great and load lightning fast.
My Affiliate Links Disclosure
Hi everyone. Just to let you know that many of the links on this site are my affiliate links. What that means is that if you click one of them and buy something… I get a commission. It doesn't cost you anything extra so I hope that you will use my links.
Using Monarch for social sharing
When it comes to social sharing there is no one size fits all solution. Elegant Themes have therefore given you plenty of options to choose from including floating social sidebars, inline sharing links, media sharing, pop-ups and fly-ins.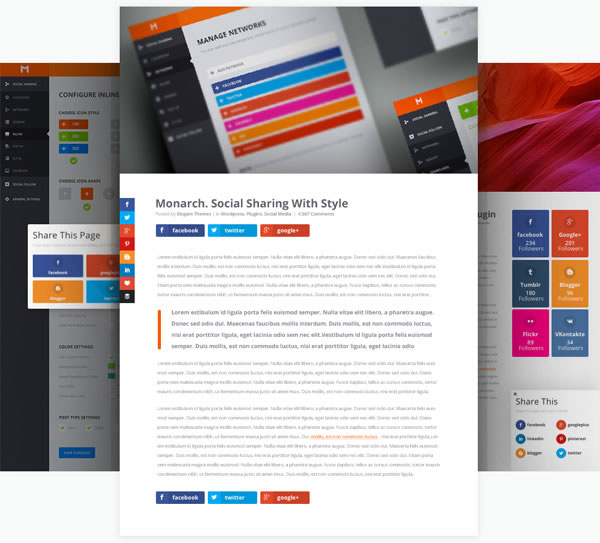 Floating Social Sidebar – the floating sidebar gives your visitors a quick and easy way to share no matter where they are on the page or post. The sidebar is also built with mobile in mind, and the responsive variation also works beautifully on smartphones and tablets.
Inline Sharing Links – add sharing buttons above and/or below the text and make it easy for your visitors to share before and after they finish reading your content.
Media Sharing – the media sharing option auto-detects images within your posts and automatically adds social sharing buttons on hover.
Social Sharing Pop-Ups – create automatic sharing pop-ups that are triggered by timed delays, when a user reaches the bottom of a post or page, or upon page leave.
Social Sharing Fly-Ins – fly-In boxes can be animated in from the bottom of your page based on custom triggers. Monarch also comes with a list of animations, which make the fly-in appearance all that more effective.
You don't have to use all the options but you can choose what you prefer and what you think will work best for your site and if you do change your mind… you can just change the settings.
Social Sharing
Empowering visitors to share is Monarch's keystone feature. Every website, and even the different pages and areas within those websites, have their own unique sharing needs. This is why we've included five distinct sharing locations with individual display settings.
Using Monarch for social follow
Having setup your social sharing you can now look at the other part of your social strategy: social following.
Monarch allows you to use a customised shortcode or a special social follow widget to place your follow buttons just about anywhere you like.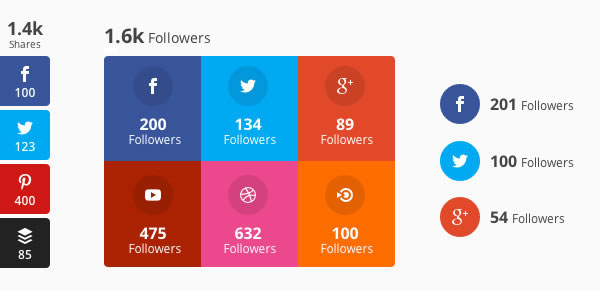 Inline Social Follow Links
Monarch lets you create a customized shortcode that displays your social follow links anywhere on your WordPress website.
If you're a Divi theme user you can display your social follow buttons by placing this shortcode in a Divi Text Module and placing the Module where you would like to display your follow buttons.
You can also invite your visitors to follow you at the end of a post, or just about anywhere you choose, even here for example: go on click the buttons to prove that they work.
Sidebar and Footer Social Follow Links
When you have Monarch installed on your WordPress website a special social follow widget is available, in your WordPress dashboard, which you can add to any widget-ready area on your site.
All you have to do is place the widget wherever you want it and configure the widget preferences in the Monarch Dashboard to control its display settings.
I'm using the social follow widget at the top of my sidebar on this site.
Social Following
Where there is sharing, there is following. Just as important as gaining social shares is amassing an online social following. Monarch allows you to easily display links to all of your social profiles, encourage visitors to click through and follow you on the networks you participate in.
Monarch statistics
Having setup your social share and social follow buttons it would be nice to know how well your social campaign is going and that's exactly what the Monarch Stats page tells you.
The stats are broken down into two sections: All-Time Stats and Day, Week, Month, Year Stats.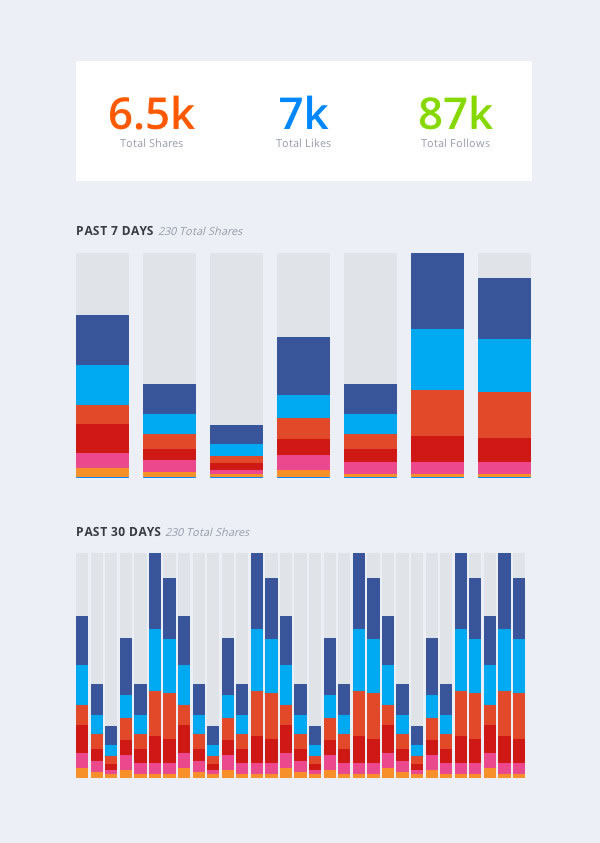 All-Time Stats
Total Shares – your all time share count across all social networks.
Total Likes – the all-time stat of users who have simply 'Liked' a page.
Total Follows – displays the sum of followers across all of your social profiles.
Day, Week, Month, Year Stats
Past 7 Days – an overview of your sharing stats over the past week.
Past 30 Days – your past month of Monarch sharing statistics.
Past 12 Months – a month by month breakdown of the past 12 months of sharing statistics.
Nobody wants to spend hours and hours pouring over statistics and Monarch has got the stats display about right.
From your stats page you can get an insight into what's working and what's not working, which allows you to spot trends across your various social sharing networks, make changes and monitor results
Check Your Share and Follow Statistics
We know how important it is to see how effective your social sharing buttons are on your website, so we built in an easy way to keep track of your user engagement over time.
This dashboard can be accessed by the stats icon in the top bar of the Monarch Dashboard.
Monarch documentation
Just as they did with the Divi theme, it looks as though Elegant Themes produced the documentation at the same time as they were developing Monarch.
Every aspect of Monarch has been covered on video, which makes learning how to use it a delight and makes Monarch probably the best documented plugin I've ever used.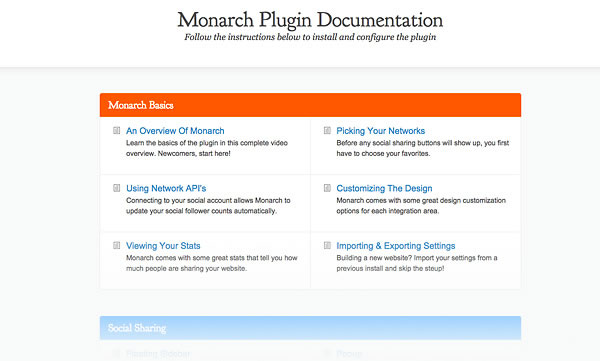 In-Depth Video and text Tutorials
We have gone above and beyond with our Monarch documentation. There is nothing about Monarch that you can't learn from our countless video walkthroughs and written tutorials.
Start sharing your content and building your followers with Monarch
This post is meant as a brief introduction to Monarch and I'll be covering every aspect of the plugin in much greater detail in future posts. But even from this brief introduction I'm sure you can see that Monarch is set to become the social plugin to beat in 2014.
If you'd like to take your social shares and follows to the next level, then sign up with Elegant Themes, download your copy of the Monarch plugin and start adding those share and follow buttons today.
We offer no-questions-asked refunds to all customers within 30 days of your purchase. If you are not satisfied with our product, then simply send us an email and we will refund your purchase right away. Our goal has always been to create a happy, thriving community. If you are not thrilled with the product or are not enjoying the experience, then we have no interest in forcing you to stay an unhappy member.
Nick Roach – Elegant Themes
I hope that you enjoyed the post and if you have any thoughts about Monarch please leave a comment and if you'd like to spread the word about this fabulous plugin, please use the social sharing icons below.
Credits:
My thanks and gratitude to Elegant Themes for the graphics, videos and details of the Monarch documentation used in this post.