This is the third post in a series about Monarch, the new social sharing and follow plugin from Elegant Themes.
The first post was an introduction and overview of Monarch, the second one looked at the social sharing side of Monarch and this one will look at the social following features of the plugin.
Before Monarch I had to use separate plugins for Sharing and Following and a third plugin to add a floating sidebar. But now I do everything with one plugin and all from one dashboard.

My Affiliate Links Disclosure
Hi everyone. Just to let you know that many of the links on this site are my affiliate links. What that means is that if you click one of them and buy something… I get a commission. It doesn't cost you anything extra so I hope that you will use my links.
Build and Display Your Social Following
Whether you are a large company, a small business, or an individual, it is becoming more and more important to build and retain a social following. Monarch lets you connect your website to all of your social profiles to display your social networks and follow counts.
Elegant Themes
Do you really need social followers… are numbers important?
There is an old saying "Success breeds success" and in a website context that means that when visitors arrive at your site they are impressed by how many followers you have. It gives you a certain kudos and it makes them want to be part of that success by following you.
Don't worry if you're still building up your followers, you can leave off the follower numbers or set a minimum number before they are displayed.
With the Monarch plugin the way you present your social sharing links can be as minimal and unobtrusive as……
Or you can choose to show total followers, network names and the number of followers for each network, which gives you big bold sharing buttons…
You can also customise text, background and hover colours to perfectly match and blend in with your site…
And you can decide how many rows you would like to display your follow buttons in…
Social following may be the Cinderella of social media but with the Monarch plugin Elegant Themes have given you the tools to place it centre stage and fully in the spotlight.
Now let's take a look at how you create and locate your social follow links using Monarch shortcodes and / or the Monarch widget and customise them in the Monarch dashboard.
Where there is sharing, there is following. Just as important as gaining social shares is amassing an online social following. Monarch allows you to easily display links to all of your social profiles, encourage visitors to click through and follow you on the networks you participate in.
Elegant Themes
Inline Social Follow Links with Monarch shortcodes
All of the follow buttons above were created using Monarch shortcodes and you can click them to prove that they're real.
Each one only takes a few minutes to setup and if you change your mind about the type of button you want… just create another shortcode.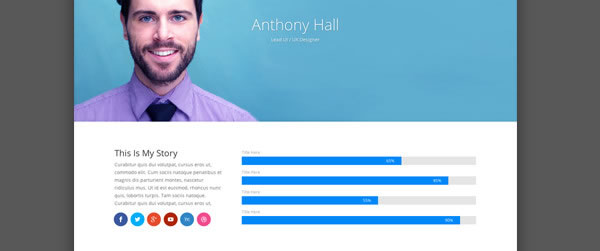 These customised shortcodes can be used to display your social follow links just about anywhere on your WordPress website on both pages and posts. If you're a Divi theme user you can paste the shortcode into a Divi Text Module and the buttons will adjust to the space available.
This video, which is part of the Monarch documentation, runs you through the full process of creating your social follow links using Monarch shortcodes:

Sidebar and Footer Social Follow Links with the Monarch widget
When you install Monarch a social follow widget is created and appears in your WordPress widget area.
You can add this widget to any widget-ready area on your site and configure it in the Monarch Dashboard to control its display settings.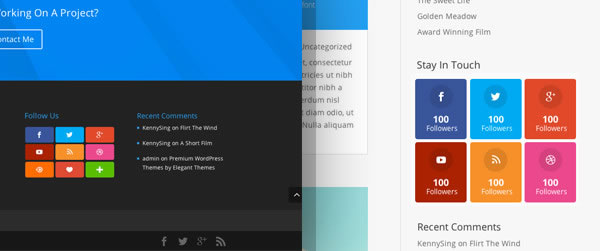 The social follow widget is ideal for displaying your social network follow links in your sidebar or footer, or any other widget-ready area, and it's what I use on this site for my sidebar links.
To really get to know how to use and configure the Monarch social follow widget check out this video, which is part of the Monarch documentation:

Customising display settings for your Monarch share and follow links
As with social sharing, when it comes to social following there is no one size fits all solution. Fortunately Monarch makes it easy to fully customise the look and feel of your social network buttons.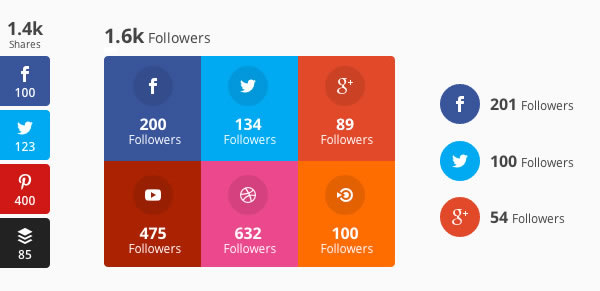 Everything you can control for social sharing inline icons you can also control for social follow icons. You can modify size, shape, colour, content and location giving you an almost infinite number of display options.
In this video by Nick Roach of Elegant Themes, he uses his design skills to show you how to customise the display settings of your social buttons and how to use them in different combinations and creative ways to create layouts that work well with your website.
This is another video from the Monarch documentation:

Monarch gives you the combined power of social follow and social sharing
If you pressed me and I had to choose between social share and social follow, I'd choose social share, but with Monarch you can now have both… you really can have your cake and eat it.
If you think it's time you took both your social following and social sharing seriously, then sign up with Elegant Themes, download your copy of the Monarch plugin and start adding those share and follow buttons today.
We offer no-questions-asked refunds to all customers within 30 days of your purchase. If you are not satisfied with our product, then simply send us an email and we will refund your purchase right away. Our goal has always been to create a happy, thriving community. If you are not thrilled with the product or are not enjoying the experience, then we have no interest in forcing you to stay an unhappy member.
Nick Roach – Elegant Themes
I hope that you enjoyed the post and if you have any thoughts about Monarch please leave a comment and if you'd like to spread the word about this fabulous plugin, please use the social sharing icons below.
Credits:
My thanks and gratitude to Elegant Themes for the graphics, videos and details of the Monarch documentation used in this post.