My last post was all about GetSiteControl widgets: the free alternative to Bloom and Monarch, which allows you to add Subscribe, Promotion, Social Follow, Social Share, Contact, Survey and Chat features to your website.
In this post I'll show you how to create an opt-in form using a GetSiteControl Subscribe widget and integrate it with your MailChimp account.
Once you're integrated with MailChimp the collected names and emails of your subscribers will be automatically added to the mailing list of your choice…. a quick, easy and free way to grow your subscriber list.

My Affiliate Links Disclosure
Hi everyone. Just to let you know that many of the links on this site are my affiliate links. What that means is that if you click one of them and buy something… I get a commission. It doesn't cost you anything extra and I only recommend things that I've tried and tested, so please, please, please… use my links.
#1 – Create a Subscribe widget to act as your Opt-in form
The two things you need to get started are a MailChimp account (free plan will be fine) with at least one list and a GetSiteControl account, again the free plan is fine.
I'm assuming that you already have a MailChimp account so to get started, head over to GetSiteControl and open an account.
Once you've signed up with GetSiteControl, and downloaded and activated their plugin, you can create a Subscribe widget to act as your opt-in form.
To create your Subscribe widget, login to your GetSiteControl dashboard, click Create widget and choose the Subscribe widget from the list.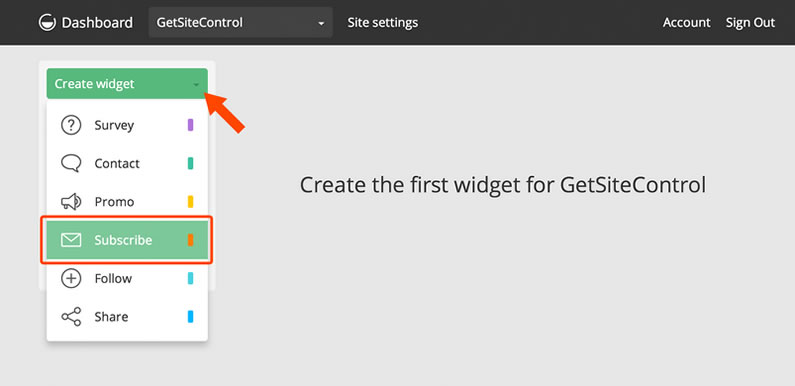 #2 – Choose the location and content of your Opt-in Subscribe widget
On the Appearance tab choose the position you would like for your new widget.
You can choose from bar (top or bottom), button, modal window, panel or slide-out, and your choice will be displayed in the Preview screen on the right.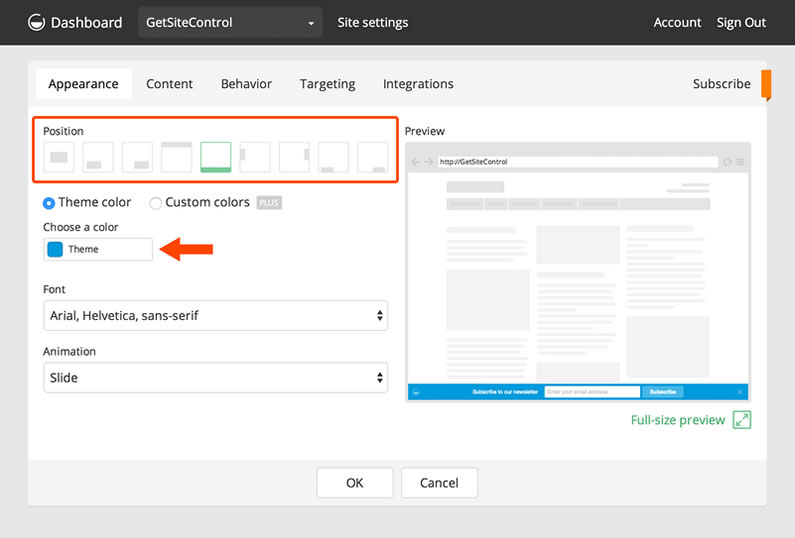 Now switch to the Content tab and add the text you would like to display to your site visitors.
The Preview area on the right will display the changes you make in real time.
When you've finished editing your Subscribe widget, click OK to save the changes.
#3 – Connect to MailChimp using your MailChimp API key
Now you need to connect your GetSiteControl account to your MailChimp account using your MailChimp API key.
To do this, click Site settings, enter your MailChimp API key and click Connect.
That's it: your two accounts can now share and exchange information with each other.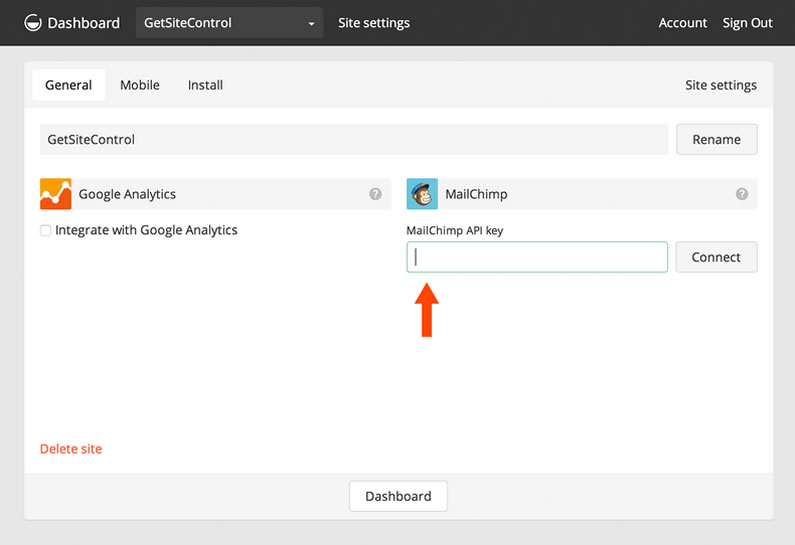 #4 – Choose the MailChimp list that your Subscribers' data will be added to
Open your Subscribe widget and switch to the Integrations tab.
Because your GetSiteControl and MailChimp accounts are connected, your MailChimp mailing lists will be displayed here.
Use the drop-down list to select the list you want the data from the Subscribe widget to be sent to.
You can also enable opt-in confirmation emails here, which means that an email, to confirm the subscription, will be sent to all new subscribers and if they don't click the link in this email, they won't be added to your list.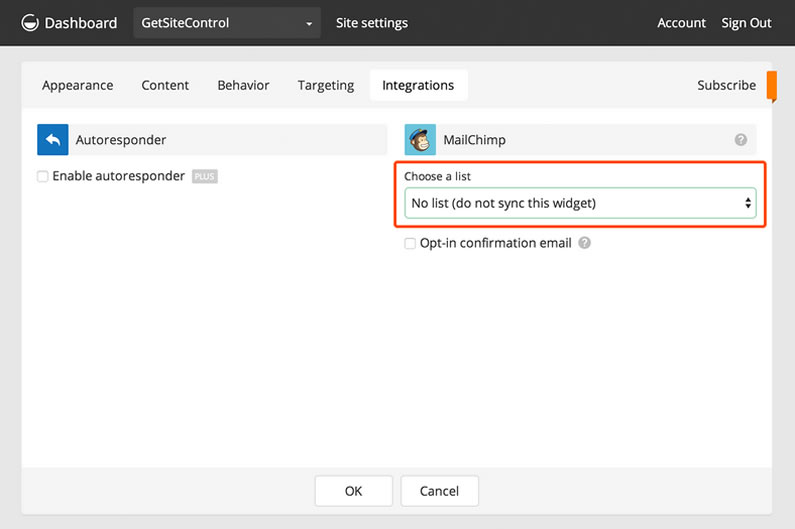 #5 – And finally… activate your Subscribe widget
Your new widget will not be displayed on your website until you activate it.
When you're happy with the location and content of your widget and want to publish it go to your GetSiteControl Dashboard, find your Subscribe widget and activate it from the small drop-down box as shown below:
You can edit both the location and content of any of your widgets at any time, which means that you can play around with different content and locations to see which gives the best results.

That's it folks, your new opt-in form has been published and your visitors can use it to subscribe to your mailing list.
All new contacts will be automatically added to the MailChimp list that you've chosen.
Beautiful and customizable
Bars, pop-ups, buttons or panels – you choose what your widgets will look like. Add custom images, choose colours, fonts and animations.
Create your free email opt-in form with GetSiteControl and MailChimp
If you're thinking of creating an opt-in form to accelerate the growth of your email list and you're working on a limited budget, then the combination of GetSiteControl and MailChimp is the perfect choice for you.
Both services have a free account, they have a good reputation in the WordPress community and they integrate seamlessly.
To get started on your opt-in form using a GetSiteControl Subscribe widget in combination with MailChimp, sign up for a free GetSiteControl account, follow the steps in this tutorial and start growing that list today.
Sign up for the full-featured Free plan that and
join 10000+ website owners already using GetSiteControl
I hope that you enjoyed the post and if you have any thoughts about using GetSiteControl widgets in combination with MailChimp, then please leave a comment and if you'd like to spread the word about this fabulous free service, please use my social sharing icons below.
Credits:
My thanks and gratitude to GetSiteControl for the graphics and details of the Subscribe widget used in this post.