Elegant Themes have two great projects underway at the moment: Extra, which is their blog theme equivalent of the Divi pagebuilder theme and Monarch, which is their social sharing plugin.
Extra looks set to do for post based WordPress websites what Divi has done for page based ones and I'll be saying a lot more about Extra in future posts, but for this post let's take a sneak peek at the Monarch plugin.
Monarch is still in development and won't be available for a month or so, but from what I've seen so far…. Monarch is now available and from what I've seen… it looks set to raise the bar on social sharing plugins.

Monarch social sharing is so much more than a sticky sidebar of social links. Monarch will give your visitors the ability to share and follow anywhere on your site.
Whether it's through a sticky sidebar, an inline content block, widget area, a pop-up or one of our various other integration areas.
Nick Roach – Elegant Themes
Optimum locations, great looking styles and coordinated colours
Let's start with the front-end: the bit that visitors see when they land on your site. Monarch will give them the ability to share and follow anywhere on your site. You'll have the choice of a sticky sidebar, an inline content block, widget area, a pop-up or one of the other integration areas that Elegant Themes are looking at.
Not only will you be able to place your social sharing icons in the optimum places to get the maximum number of shares but they will have great Elegant Themes styling and you will be able to customise colours to coordinate perfectly with your theme.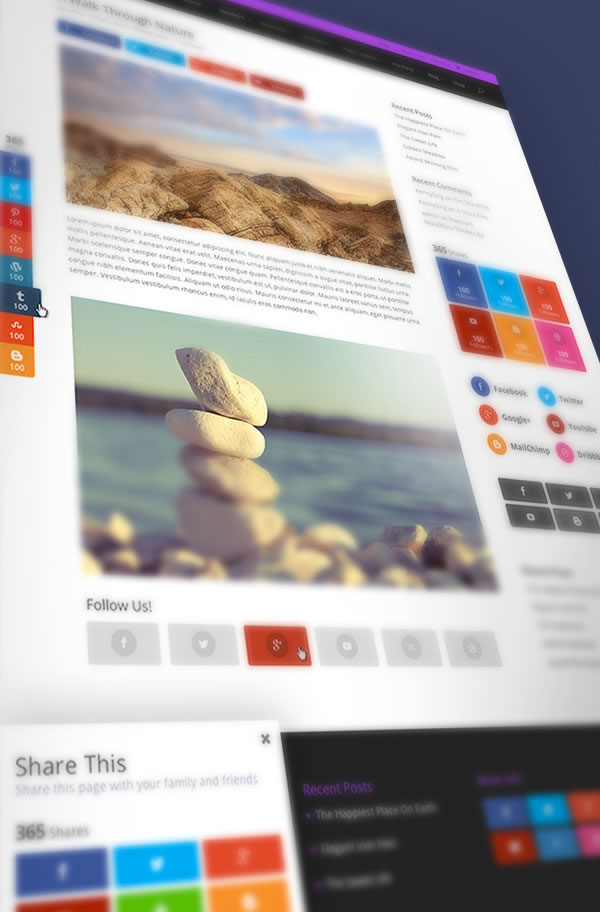 Social media has quickly become the lifeblood of the internet, and your website's social sharing strategy should be a top priority. Placing sharing buttons in your sidebar isn't enough. Floating social media bars filled with disparate and disorganised badges looks tacky and unprofessional. We want to build something better – a plugin that effectively encourages visitors to share your content without sacrificing your website's beautiful design.
Nick Roach – Elegant Themes
Quick and easy setup with options panel and Monarch dashboard
From front-end to the back-end where you'll choose, configure and decide on the locations of your social sharing / following icons. It's also the place where you'll monitor your analytics to see how successful your social sharing is.
To ensure that setting up and configuring your icons is quick, easy and enjoyable, Elegant Themes have introduced a new backend options panel and Monarch dashboard. The new options panel looks likely to serve as a framework for future ET plugins.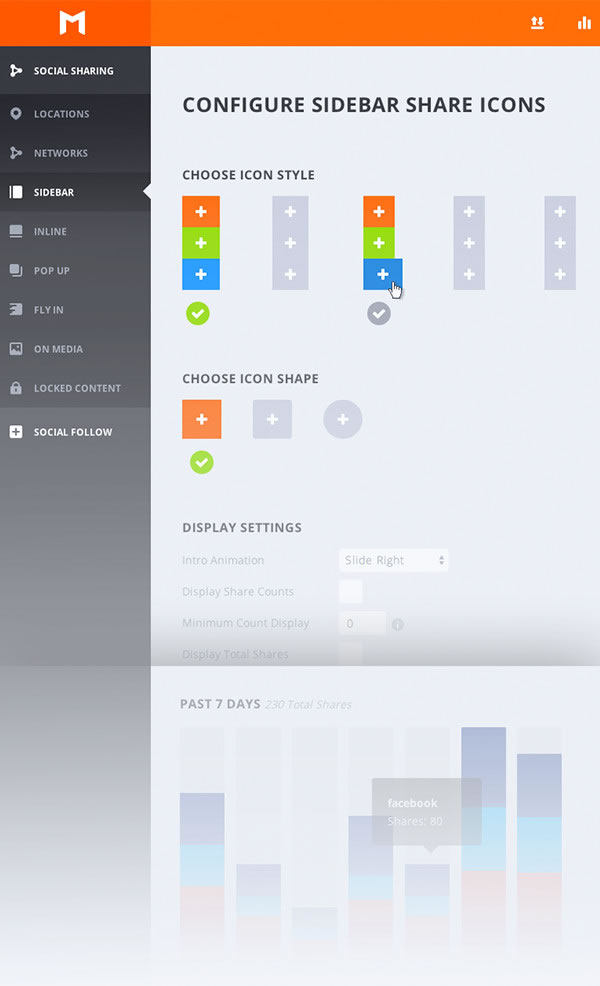 We want to introduce a new set of integration areas and methods, make them easier than ever to configure, and make them look good too! In short, we want to get you more shares and do it in style. That's where Monarch comes in.
Nick Roach – Elegant Themes
Check out Elegant Themes and download Monarch today
The Monarch plugin won't be available for about a month but as soon as it's released I'll install it on this site, check how it performs and get out a post. is now available and is active on this site.
In the meantime if you think that Monarch might be the social sharing plugin for you then head over to Elegant Themes, check out pricing and other details and get ready for the release date and download Monarch now.
Sharing is Easier Than Ever Monarch makes social sharing an absolute breeze. With a diverse set of display types such as floating sidebars, inline buttons, and automatic pop-ups, your visitors can now share your content with ease.
Nick Roach – Elegant Themes
I hope that you enjoyed the post and that I've whetted your appetite for this great looking plugin.
If you have any thoughts about Monarch or any other social sharing plugin, please leave a comment and if you'd like to spread the word about this fabulous plugin please use the social icons below.
Credits:
My thanks and gratitude to Elegant Themes for the graphics and details of the Monarch social sharing plugin used in this post.