These days Elegant Themes are concentrating on quality over quantity.
They're producing high end, high quality themes and plugins and concentrating on making them non-coder friendly, adding user generated features, providing fabulous documentation and videos and improving them with each release.
If Divi was the first of their "super themes" then Monarch was the first of their "super plugins" and with version 1.2… it just got better.
Monarch version 1.2 has better stats and smarter triggers, but there are a lot more improvements and additions to look at, so let's get started.

My Affiliate Links Disclosure
Hi everyone. Just to let you know that many of the links on this site are my affiliate links. What that means is that if you click one of them and buy something… I get a commission. It doesn't cost you anything extra and I only recommend things that I've tried and tested, so please, please, please… use my links.
Better stats to help you monitor your Social Media campaigns
If you're serious about using Social Media to grow your business you need to know what's working and what's not working. You need to know which networks are giving you the most shares, which is your most shared content and what are the stats for your individual pages and posts?
With Monarch's new stats features you can now do all that… and more.
All-Time Network Share Stats
Previous versions of Monarch allowed you to track each network's share stats on a daily, weekly, and monthly basis, but you can now see the "All-Time" sharing stats for each Network.
This allows you to see which networks are being used most by your audience and gives you an indication of the networks to concentrate on.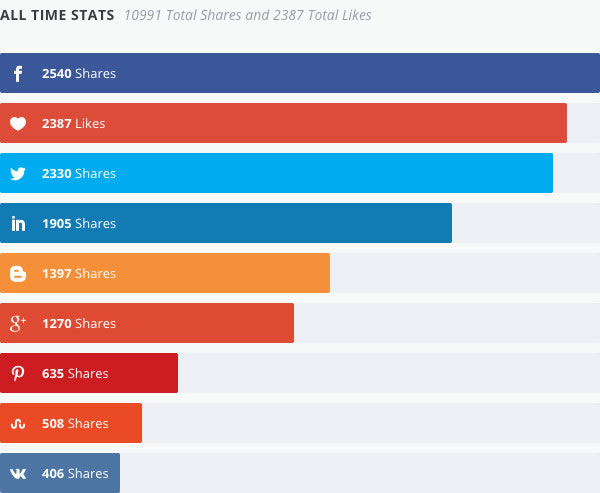 Track Your Most Shared Content
Monarch has always had useful global stat features, but now you can check individual posts and pages to find your highest performing content.
Knowing which is your best performing content tells you what your visitors are looking for and finding interesting and useful.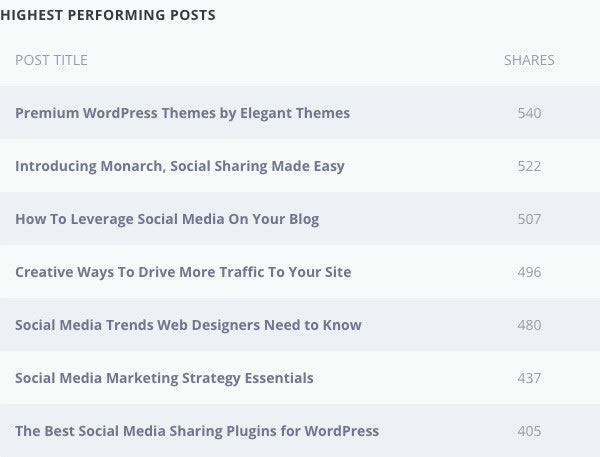 Individual Page & Post Statistics
This feature allows you to visit any post or page in your WordPress Dashboard and take a look at its individual sharing stats. Monarch tracks both the all-time stats and the shares for the past week for every post and page.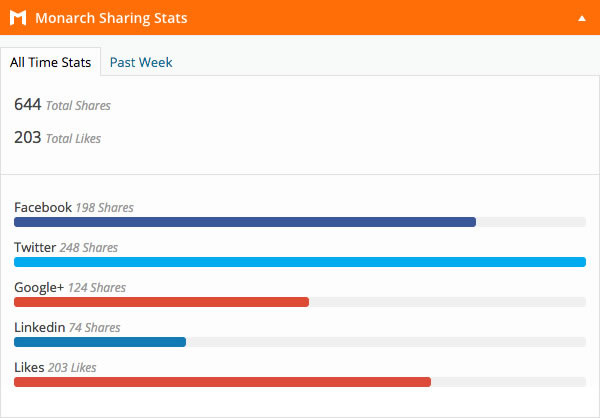 Now THAT's an update! Great work, Nick – I've been using Monarch on some of my sites since release and, while enjoying the features, felt it lacked compared to other plugins on the market.
This update addresses those "shortfalls" and then some – great job!
Danny Brown – Elegant Themes blog
Four new automatic Pop-Up and Fly-In triggers
Let me say straight away that I hate pop-ups and fly-ins but the truth is… they get results and if they are triggered at the right time… they get even better results.
In this release of Monarch, Elegant Themes have added four new automatic triggers to target specific visitors on your site. These new options, along with timed-delay and bottom-of-content triggers, give you the ability to completely customize how and when your pop-ups and fly-ins are triggered.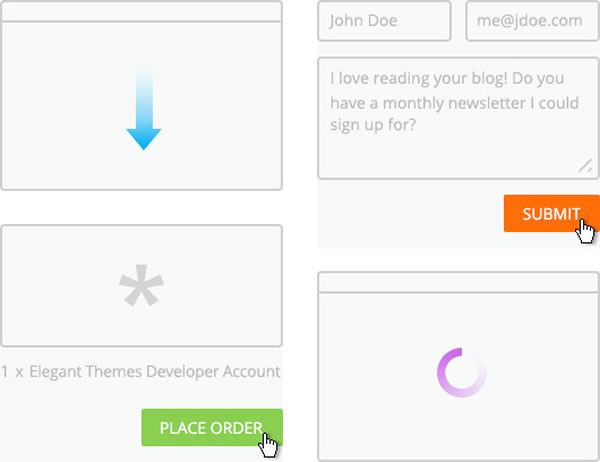 #1 – Trigger after percentage scroll
This trigger displays a social pop-up or fly-in after your user scrolls a defined percentage down the page.
Allows your visitors get settled on the page and not frighten them off the moment they arrive.
#2 – Trigger after leaving a comment
Presents anyone who comments on a post or page with an automatic pop-up or fly-in.
Useful to target users who have already shown an interest in your content.
#3 – Trigger after making a purchase
After a visitor purchases a product from your site is a great time to remind them to share your online store.
This trigger allows your customers to share your website store with friends and family.
#4 – Trigger after inactivity
Opens if a user's cursor is inactive on your page or post for a defined amount of time.
This is a powerful and practical way to help re-capture your visitors attention.
For a complete masterclass, which describes each trigger in detail and gives examples of how each can be used in different situations to yield different results, check out this Monarch documentation video by Nick Roach:

A few more Monarch 1.2 features that you won't want to miss
If the new stat features and pop-up / fly-ins are the rock stars of the Monarch 1.2 update then these updates and additions are the supporting acts.
These features may not be centre stage but they do an important job and they make those superstars look and perform even better.

New auto-updating follow counts
Monarch is now integrated with the Twitter, YouTube, and Pinterest API's so that your most current follow counts are always shown.
At the moment there are 12 social networks that will automatically pull your follow counts without you having to manually enter and update them. As more networks allow API access, Elegant Themes will integrate them into Monarch.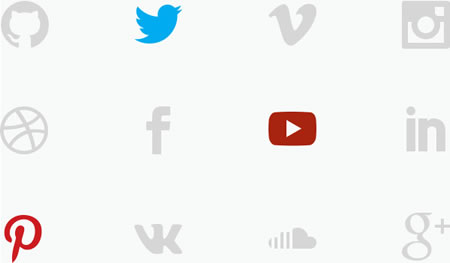 Choice of left or right positioned floating sidebar
Before Monarch 1.2 you had to display the social floating sidebar on the left hand side, which is fine… unless your sidebar or vertical navigation is on that side.
With Monarch 1.2 you can now choose to display your floating sidebar on the left or the right.
You can choose your floating sidebar location via Tools > Monarch Settings > Social Sharing > Sidebar > Display Settings – as shown below: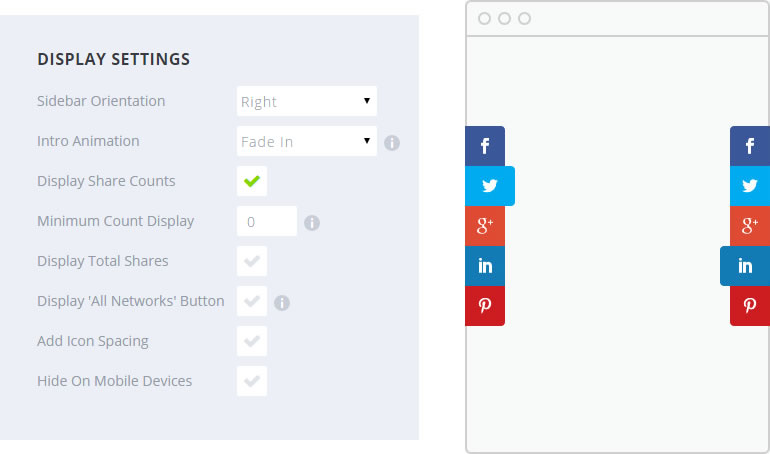 Share from any network button
The new "All Networks" button adds an option for users to share on networks that you don't have displayed on your page.
This is a great space saving feature that allows you to link to lots of networks, without displaying every single network in your integration areas.
The "All Networks" button is grey with three black dots and when clicked it opens all the other social networks in a lightbox as shown below: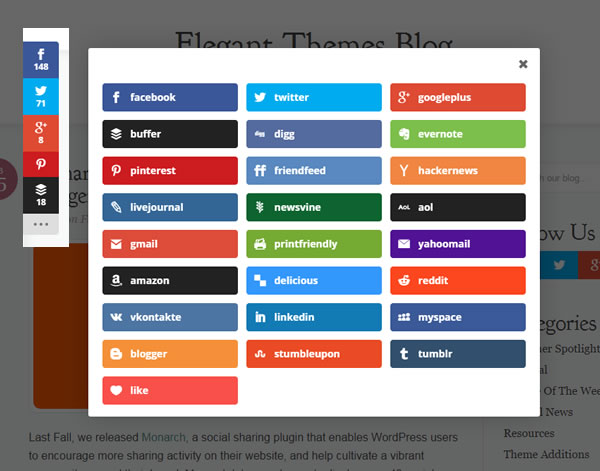 Choose to display/not display share buttons on your homepage
This is a great little feature that allows you to choose to display/not display your social sharing sidebar, pop-up, fly-in, or inline buttons on your homepage.
The default setting is "not display" so if you're wondering why your social sidebar is not displaying on your homepage… it's probably because you've not activated the setting.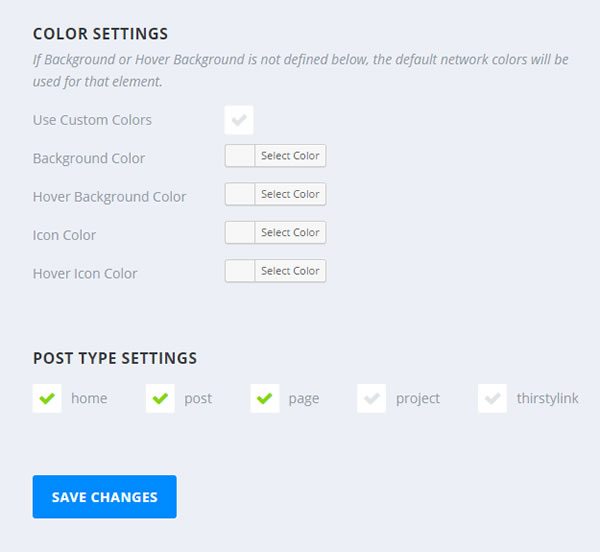 Like I said, these features aren't the superstars of this Monarch update, but they save you time and effort, give you more control and will make your next social media campaign more targetted and efficient.
Last Fall, we released Monarch, a social sharing plugin that enables WordPress users to encourage more sharing activity on their website, and help cultivate a vibrant community around their brand. Monarch lets you choose to display over 40 social networks in 7 different integration areas that can be completely customized, combined, and triggered by specific user interactions.
In Monarch 1.2, we have included more network API's for dynamic follow counts, added additional display settings for sharing locations, developed 4 new pop-up and fly-in triggers, and revamped statistics down to an individual post level.
Nick Roach – Elegant Themes
And finally… a few bug fixes and improvements
Elegant Themes monitor their support forums for bugs, improvements and user requests and as a result, the following changes, improvements and fixes have been added to this Monarch update:
Monarch widget: Fixed the issue with likes count error
Improved YouTube response handling
Fixed the issue with Pinterest icon, conflicting with the official Pinterest plugin icon
Added FadeIn/FadeOut Animation To Popup Overlay
Fixed the issue with Monarch widget class that had no width defined
Fine tune your social media campaigns with Monarch version 1.2
If you'd like to be able to setup your social media campaigns using awesome share and follow tools combined with automatic Pop-Ups and Fly-Ins triggered by criteria of your choice. And then to monitor and modify those campaingns using rock solid stats to guide you, then Monarch is the plugin you've been looking for.
To get started with Monarch, sign up with Elegant Themes, download your copy of Monarch and start planning your next campaign today.
Boost Your Social Following
Whether you are a large company, small business, or an individual, it is becoming more and more important to build and retain a social following. Monarch lets you connect your website to all of your social profiles to display your social networks and follow counts.
Nick Roach – Elegant Themes
I hope that you enjoyed the post and if you have any thoughts about social plugins in general or the Monarch pop-ups and fly-ins and stats in particular please leave a comment and if you'd like to spread the word about this fabulous plugin, please use the social sharing icons below… Monarch of course.
Credits:
My thanks and gratitude to Elegant Themes for the video, graphics and details of the Monarch plugin update used in this post.