If you're a regular reader of my blog posts you'll know that I love both the Bloom and Monarch plugins and use them throughout this site.
Bloom allows you to create customised opt-in forms and Monarch allows you to create social share and follow features… but they are premium plugins.
So what do you do if Bloom and Monarch are a little beyond your budget or if your client insists that you use free plugins?
No problem, before I started using Bloom and Monarch I used GetSiteControl widgets, which make it easy to add Subscribe, Promotion, Social Follow, Social Share, Contact, Survey and Chat features to your website.
And best of all, GetSiteControl has a free plan.

And by the way: on this post and on my home page I'm using the GetSiteControl Subscribe widget displayed as a slide-in and set to activate "on exit". You can give it a try by moving your mouse to the top of the screen, as though you were leaving the site.
Sign up for the full-featured Free plan that will stay free forever. No commitment. No credit card required.
GetSiteControl Team
My Affiliate Links Disclosure
Hi everyone. Just to let you know that many of the links on this site are my affiliate links. What that means is that if you click one of them and buy something… I get a commission. It doesn't cost you anything extra and I only recommend things that I've tried and tested, so please, please, please… use my links.
An introduction to GetSiteControl widgets
GetSiteControl is a service that allows you to create and manage surveys, contact forms, promo notifications, opt-in forms, social follow and social share using widgets.
The widgets are all managed from your GetSiteControl dashboard and you can choose to display them as bars (top or bottom), pop-ups, slide-ins, buttons or panels.
GetSiteControl will Work on any website platform including WordPress, Blogger, Shopify, Tumblr, Squarespace, Joomla, Weebly, Bigcommerce, in fact just about any platform you can think of.
Adding the GetSiteControl widgets to a WordPress site is a simple four step process:
Step 1
Create your free account with GetSiteControl and sign in.
Step 2
Click the Site settings link at the top of the page and switch to the Install tab.
Step 3
If you are a WordPress user click the link that says Download the plugin. The plugin will be downloaded as a zip archive.
Step 4
Open your WordPress dashboard, go to Plugins and switch to the Upload tab. Click Browse to browse your computer's local hard drive and select the zip file you have downloaded. Then click Install Now to install the plugin from the zip file.
Now you'll see a window that says 'Plugin installed'. Click the Activate button.
That's it. You have successfully installed the GetSiteControl plugin on your WordPress site. Now go ahead and create your first widget.
The graphic below shows the widget types available and the display locations that you can choose from: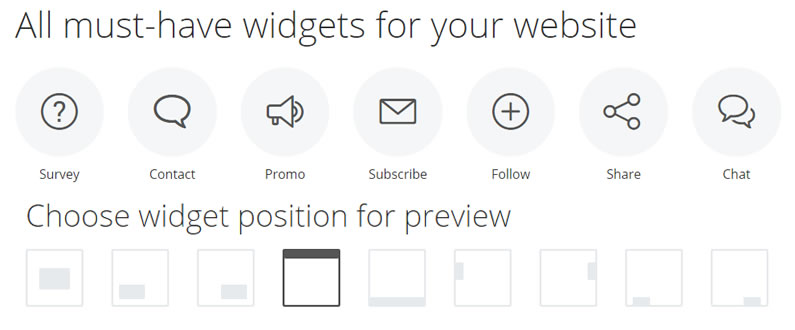 The advantages of using GetSiteControl widgets are:
Easy one-time installation – upload the GetSiteControl WordPress plugin to your website and activate it and then you can create and edit all your widgets from the intuitive GetSiteControl online dashboard.
Choice of display type and easy to customise – display your widgets as bars, pop-ups, slide-ins, buttons or panels. You can also add custom images and choose colours, fonts and animations.
MailChimp integration – sync your account with MailChimp and your collected emails will be automatically exported to the mailing list of your choice.
Google analytics – integrate GetSiteControl events with Google Analytics or download reports on widget performance from the dashboard.
Real-time statistics – see how your widgets perform with real-time statistics, easy-to-read graphs, downloadable reports and a clickmap showing where your visitors come from.
Mobile responsive – all of the GetSiteControl widgets are responsive and mobile-ready so you won't incur any Google "Responsive Penalties".
Free account – you can choose a full-featured Free plan that will stay free forever. No commitment and no credit card information required.
#1 – Subscribe widget to help you accelerate the growth of your email list
The Subscribe widget helps you collect email subscribers and gather leads through your website.
You can sync your account with MailChimp and your collected emails will be automatically exported to the mailing list of your choice.
Your list of subscribers can then be used in an RSS to email or newsletter campaign or any other campaign.
The Subscribe widget is a great way to accelerate the growth of your list by adding a prominent email sign-up form to your website complete with a clear call-to-action.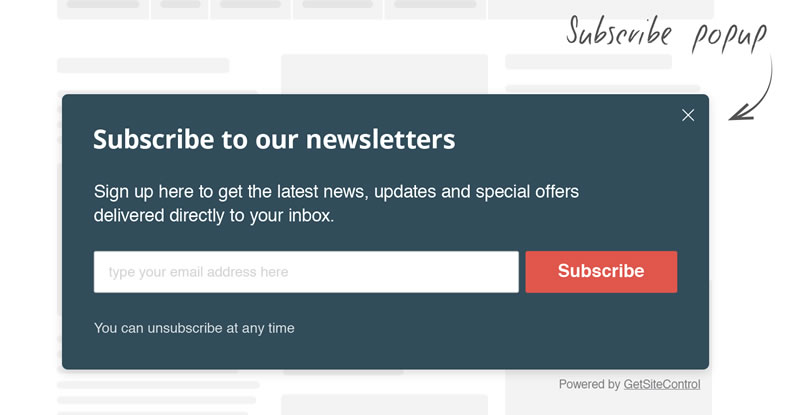 #2 – Promo widget to promote your products, services and special offers
The Promo widget is perfect when you want to display a notice or alert, promote a new campaign or a new product, draw your visitors' attention to your most important content, share company events or news or just drive users directly to your purchase page.
The Promo widget's link button directs your visitors to the page that you want them to visit next.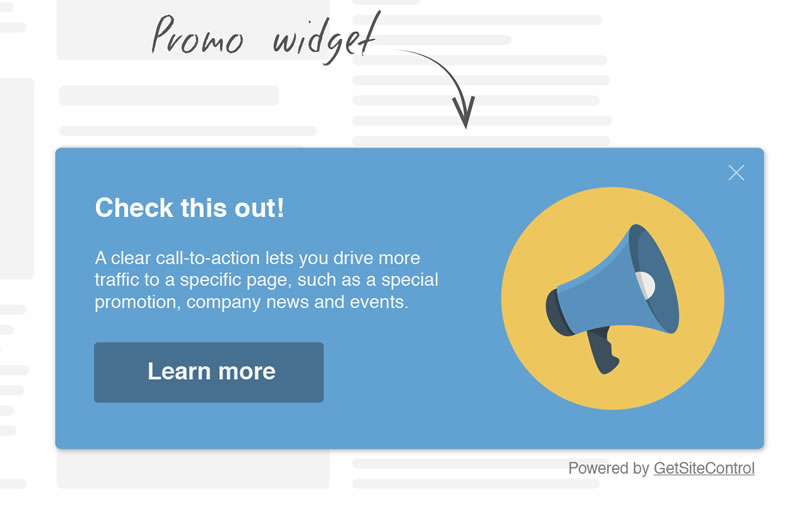 #3 and #4 – Social Follow and Social Share widgets to leverage Social Media
The Social Follow widget makes it easy for your visitors to follow you on your various social platforms. It's a quick and easy way to increase your followers.
The Social Share widget does exactly the same for social sharing: it makes it easy for your visitors to share your content across the various social platforms and helps get your content out to a much larger audience.
You can display both the Social Follow and Social Share widgets as horizontal bars or floating sidebars just like the Monarch floating sidebars used on this site.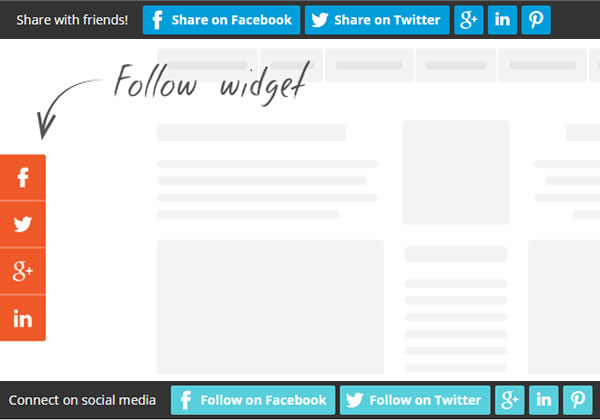 #5 – Contact widget to make it easy for your visitors to get in touch
A discrete Contact widget located at the bottom of your pages and posts is a super efficient way to encourage your visitors to contact you with their ideas, suggestions and questions.
You will also make them feel more comfortable by offering them an easy way to contact you, inquire about your services or place an order.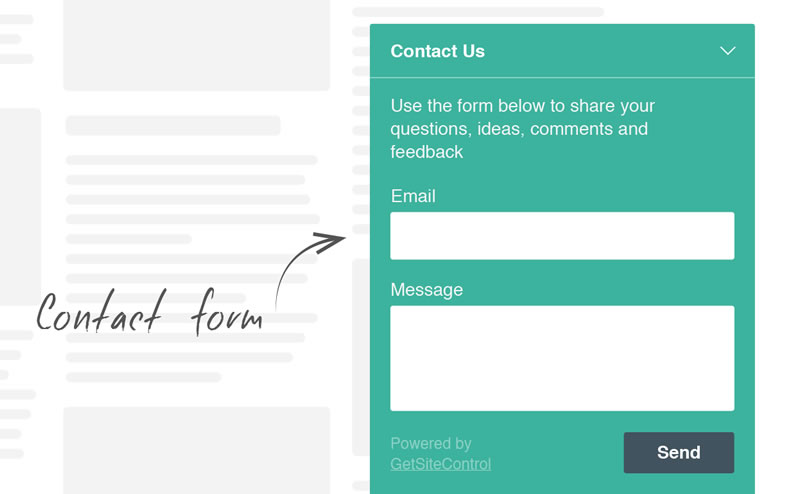 #6 – Survey widget to get that all important feedback from your visitors
Don't try and guess what your customers want, ask them by adding a Survey widget to your website.
With the Survey widget you'll get instant feedback on products, features, marketing strategies, pricing policy or anything else that you'd like to know about.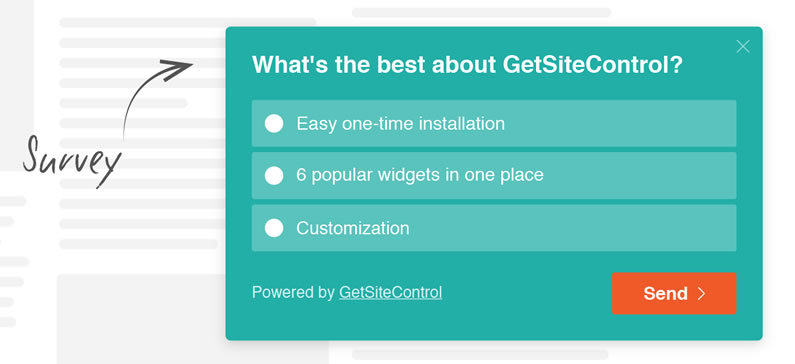 #7 – Chat widget to allow live and immediate interaction with your visitors
The Chat widget is not available yet but I understand from the guys over at GetSiteControl that it will be available very soon.
With the Chat widget you will be able to talk to your website visitors, existing customers and prospects in real-time. You will be able to help them solve issues and find answers to their questions instantly.
Using live chat on your website will help you increase engagement, foster customer satisfaction and increase conversions.

Sign up to a free GetSiteControl account and start adding your own widgets
This post is not meant to be an in-depth comparison between the features offered by Bloom and Monarch versus the features offered by GetSiteControl widgets, but it is meant to show you that this completely free service provides many of the features offered by these premium plugins.
If you'd like to take advantage of the features offered by these widgets to enhance the performance of your website then head over to GetSiteControl, sign up to their free plan and start adding widgets to your site today.
Sign up for the full-featured Free plan that that will stay free forever and join 10,000+ website owners already using GetSiteControl.
GetSiteControl Team
I hope that you enjoyed the post and if you have any thoughts about GetSiteControl widgets then please leave a comment and if you'd like to spread the word about this fabulous free service, please use my social sharing icons below.
Credits:
My thanks and gratitude to GetSiteControl for the graphics and details of the widgets used in this post.