Some time ago I gave you a sneak peek of a magazine style theme called Extra.
The plan was for Extra to be to post / article based websites what Divi is to page based ones and like Divi, it would be driven by the Divi Builder.
Since I published that post Elegant Themes have created a 100% fluid and responsive grid, released the Divi Builder as a standalone WordPress plugin and put the two together to create the final version of Extra.
And the great news is, the Extra Magazine theme is now ready for download and believe me… it's an absolute stunner.
This is a dedicated purpose built magazine-theme perfect for blogs, online publications and with custom WooCommerce integration, Extra is also ideal for eCommerce sites.
Whilst Divi's strength lies in its multi-purpose approach and vast range of applications, Extra takes a more focused approach, tailoring its style to fit the needs of bloggers and online publications.

My Affiliate Links Disclosure
Hi everyone. Just to let you know that many of the links on this site are my affiliate links. What that means is that if you click one of them and buy something… I get a commission. It doesn't cost you anything extra and I only recommend things that I've tried and tested, so please, please, please… use my links.
An introduction to the Extra Magazine theme by Elegant Themes
I'll be looking in depth at Extra in future posts but for the moment this video from Nathan of Elegant Themes gives you a useful overview.
The video is over twenty five minutes long so you may want to jump around from section to section to find the parts that you are most interested in. I'm betting that once you've watched the video…. you'll be as impressed with Extra as I am.
Extra comes with the Divi drag and drop interface so don't worry about your coding skills because just like Divi, Extra will allow you to create a custom, feature rich, modern website without touching a single line of code.

Extra is the perfect theme for online publications and blogs
Extra is powered by the Divi Builder and has been extended with the addition of new Modules and a new layout system. Elegant Themes are calling Extra the most powerful magazine theme in their theme collection.
Extra allows you to build stunning story-driven posts with the Divi Builder's dedicated content Modules. You can also create a variety of category and homepage layouts using Extra's new category builder and custom post-based Modules.
You can also connect with your visitors using Extra's built in ratings system and social media integration.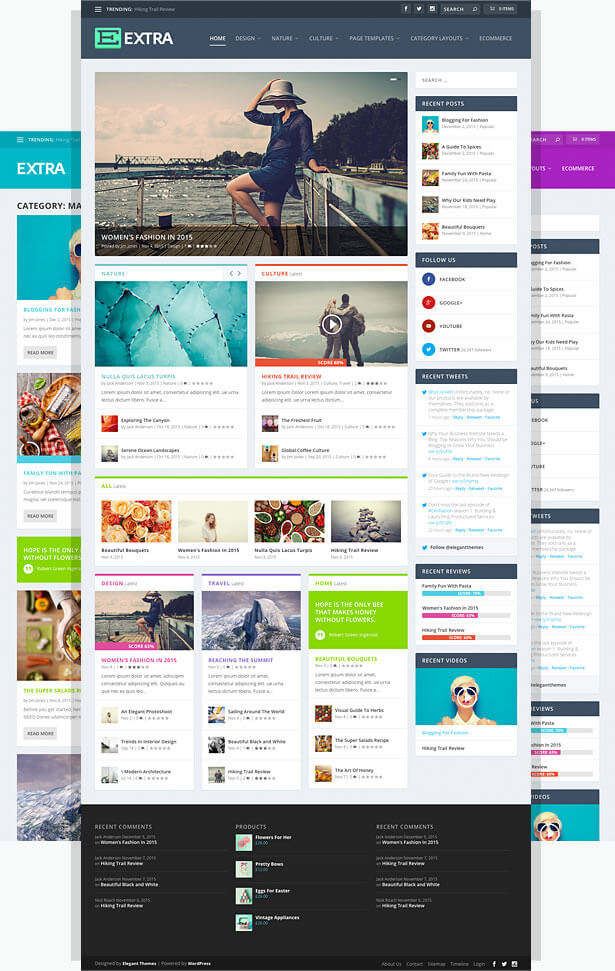 Extra comes with custom WooCommerce integration for eCommerce sites
In the development of Extra, special attention has been given to WooCommerce integration. Product pages and categories have been designed to fit straight into Extra's sleek and modern design.
Elegant Themes have designed all of the WooCommerce elements specifically for Extra. When you land on a WooCommerce page, there are no visual incongruities just seamless integration.
WooCommerce widgets have also been re-designed to look great inside Extra's sidebar along with the rest of Extra's custom widgets.
With all that WooCommerce integration, Extra makes it easy to sell products from your website.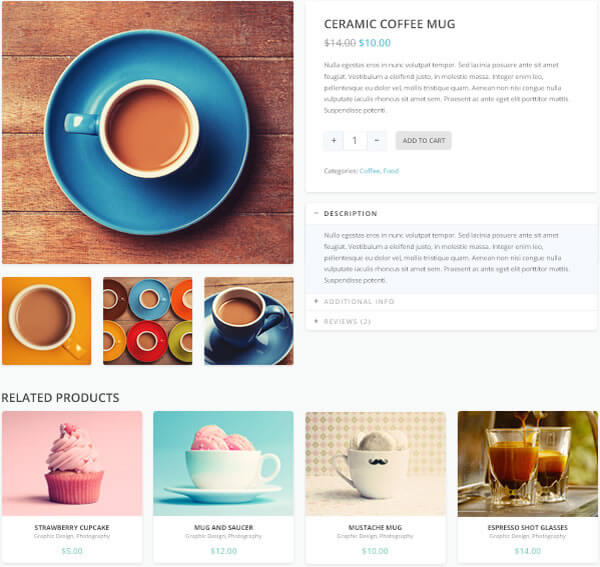 Time to use Extra on your online publication, blog or eCommerce site
If you run an online publication with content under lots of different headings or a blog with lots of categories then Extra will save you both time and effort by providing you with the tools to order, sort and display your content in well ordered and structured layouts that will both impress and enthuse your readers.
Extra will also serve you well on an eCommerce site. With dedicated WooCommerce integration and stylised WooCommerce widgets Extra makes it easy to display your goods anywhere on your website and merge seamlessly with your sites overall appearance.
To find out more about Extra or to see a live demo site in action click one of the buttons below… you won't be disappointed!

Introducing the Extra Magazine theme
Extra takes the Divi Builder and extends it to online publications, blogs and eCommerce sites using a dedicated set of new Divi Builder Modules.
Check out the Extra WordPress Theme
In the development of Extra, special attention has been given to WooCommerce integration. Product pages and categories have been designed to compliment Extra's sleek and modern design.
Extra Live Theme Demo
I hope that you enjoyed the post and that it's given you a short but useful introduction to the Extra Magazine theme.
if you have any thoughts about Magazine themes in general or Extra in particular, then please leave a comment and if you'd like to spread the word about this fabulous new theme, please use my social sharing icons at the bottom of this post.
Credits:
My thanks and gratitude to Elegant Themes for the graphics, video and details of the Extra Magazine theme used in this post.