The announcement that the Bloom email opt-in plugin is available for download was made in a blog post on the Elegant Themes blog. Within three days of the post being published it had received over five hundred comments.
Something tells me that Bloom is going to be one gloriously successful and hugely popular plugin.
So why all the excitement, is Bloom really as good as people are saying it is?
I think that the enthusiasm is more than justified and that it will do for email opt-in what Monarch did for social share and follow… and that's setting the bar pretty high.

I'll get into the detail shortly, but first a few words from the Elegant Themes guys who developed this plugin:

My Affiliate Links Disclosure
Hi everyone. Just to let you know that many of the links on this site are my affiliate links. What that means is that if you click one of them and buy something… I get a commission. It doesn't cost you anything extra and I only recommend things that I've tried and tested, so please, please, please… use my links.
There are many things that website owners can aspire to collect: shares, likes, fans, retweets; but above them all towers the email subscriber. Emails are effective because the email inbox is a more guarded place.
When you send someone an email, you aren't competing with the noise of 400 Facebook friends, or with the tweets of a thousand follows. Emails are a direct line to your subscriber's ear, and if they have joined your list then they are willing and eager to hear what you have to say.
Nick Roach – Elegant Themes
Bloom gives you a choice of six opt-in form display types
There's no one size fits all with Bloom, you can display your opt-in forms as direct pop-ups and fly-ins, subtle widget area opt-in forms and all types in between.
You can choose from six display types: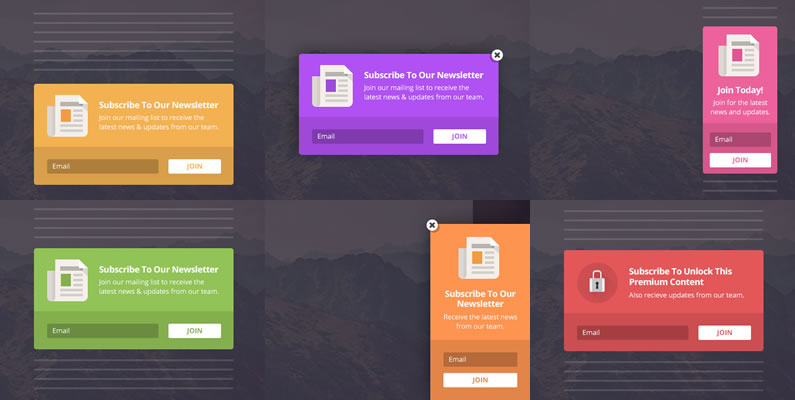 Automatic Opt-In Pop-Up – automatic opt-in pop-ups that can be triggered by timed delays such as when a user reaches the bottom of a post or page, or after they leave a comment or make a purchase.
Automatic Opt-In Fly-Ins – fly-ins that slide up from the bottom of the browser window and can be triggered by a combination of user interactions.
Inline Opt-In Forms – you can create as many Inline opt-in forms as you like and place them anywhere on your posts and pages using the Bloom shortcodes.
Below Content Opt-In Forms – put an opt-in form below your blog posts or finish off a page with an invitation to join your email list – both great locations for your optins.
Widget Area Opt-In Forms – add opt-in forms to the widget ready areas of your website, such as your footer and sidebar, using the Bloom widget.
Require Opt-In To Unlock Content – requires users to subscribe to your list before gaining access to your extra special premium content.
Control your pop-ups and fly-ins with a choice of six triggers
I hate pop-ups and fly-ins that appear the moment you open a page or post. Blooms' triggers allow you to decide when / where your opt-ins will be displayed and so won't overwhelm and put off your visitors.
Bloom has six triggers, which you can mix and match to improve the effectiveness of your opt-in forms without interfering with your visitor's viewing experience.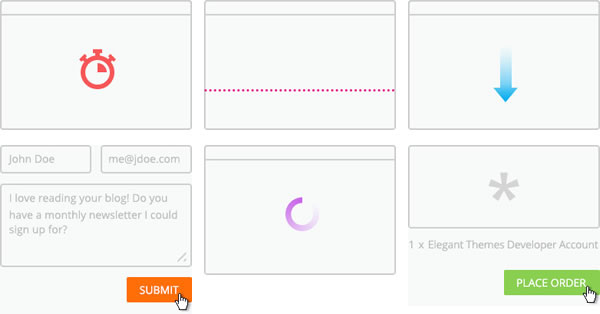 Trigger After Timed Delay – displays an opt-in form after your visitor has been browsing your page for a specified amount of time.
Trigger At Bottom of Page – displays an opt-in form when your visitor reaches the bottom of the page or post – this is one of my favourites.
Trigger After % Scroll – displays an opt-in form after a visitor scrolls a specific percentage down the page.
Trigger After a Comment – presents anyone that comments on a post or page with an automatic pop-up or fly-in.
Trigger After a Purchase – displays an opt-in form after a visitor purchases a product from your site.
Trigger After Inactivity – triggers an opt-in form If a user's cursor is inactive on your page for a certain amount of time.
Email marketing integration: Aweber, MailChimp, iContact, FeedBlitz…
Bloom makes it easy to integrate with all of the most popular email marketing systems and Elegant Themes will be adding support for more providers in the future. If you have a favourite email marketing provider that you would like to see added, be sure to let Elegant Themes know.
All you have to do is add your account within the Bloom dashboard and start growing your lists.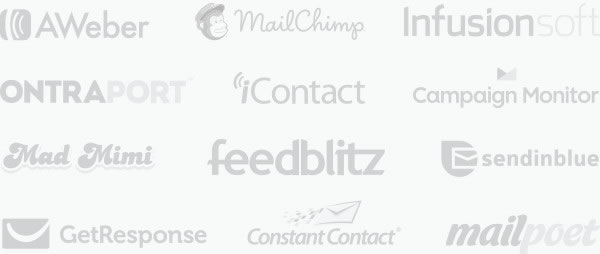 Unlimited design options including 115 pre-made templates
When you're creating lots of email opt-in forms you need to be able to create them quickly and then customise them to match your pages and posts, and that's exactly the strategy that Elegant Themes have adopted with Bloom.
Bloom comes with 115 pre-made templates, which allow you to create opt-in forms in seconds and then customise just about every aspect of each form.
This is a quick overview of Blooms' different design options and settings: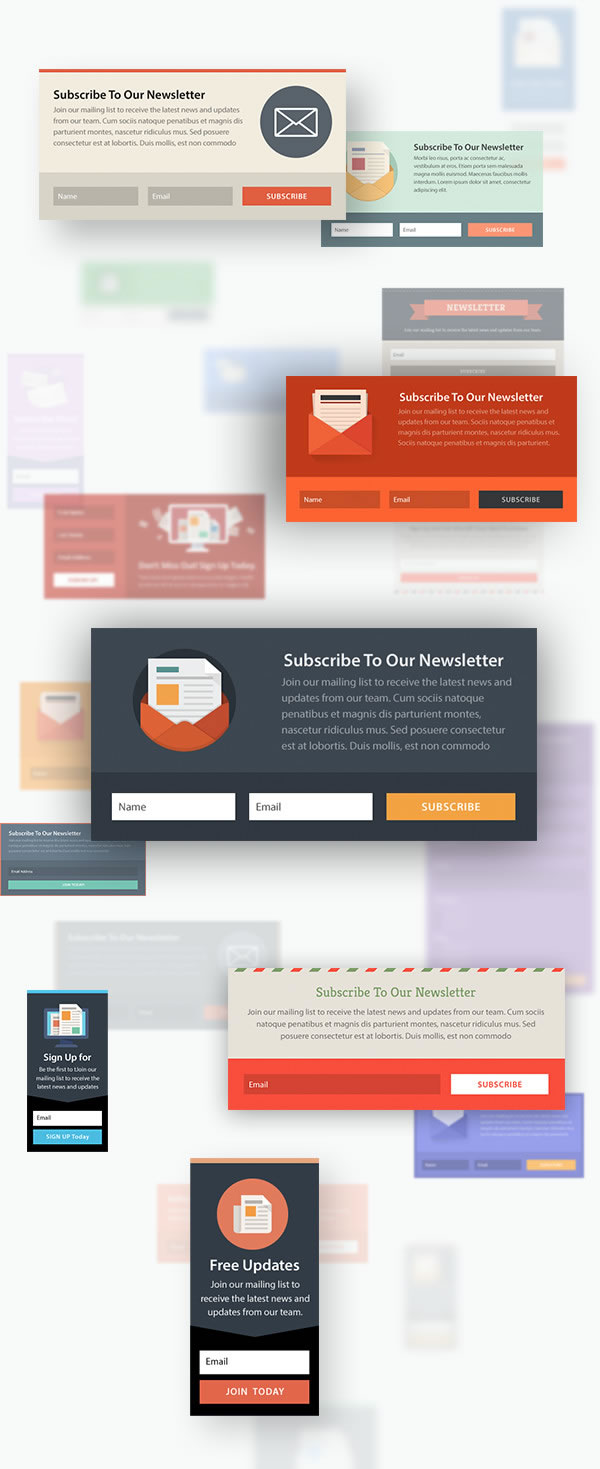 Start From 115 Pre-made Templates – generate your opt-in forms using one of Blooms' 115 pre-made layouts and have your form up and running in seconds. Each template can then be customized to look exactly the way you want it.
Select from 3 Opt-In Form Orientations – place your form below or on the side of your opt-in and choose from 3 orientations: bottom, left, or right.
Form Borders – select from Bloom's 5 different border types and decide which edges to apply them to.
Form Edges – choose from any of Bloom's 6 edge styles and combine them with any of the form orientations and form borders.
Image Orientation Options – add any image to your opt-in with the option to display it to the left, the right, above or below your opt-in's text content.
Unlimited Colour Options – Bloom gives you full control over the colours of all your form elements.
Extensive Font Options – Bloom comes with 80 font options, which allow you to further customise and personalise your opt-ins.
Target your opt-in forms to pages, posts, post types, tags and categories
I don't know about you but I don't want the same opt-in form on my homepage and all my other pages or the same opt-in on all my posts regardless of category. I want to be able to tailor my opt-ins to my page and post content.
With opt-in forms created with Bloom you can control exactly where on your pages and posts each of your forms will appear.
Target Specific Post Types and Categories
Bloom's display settings give you global options for displaying your opt-in on selected post types, along with specific categories within them.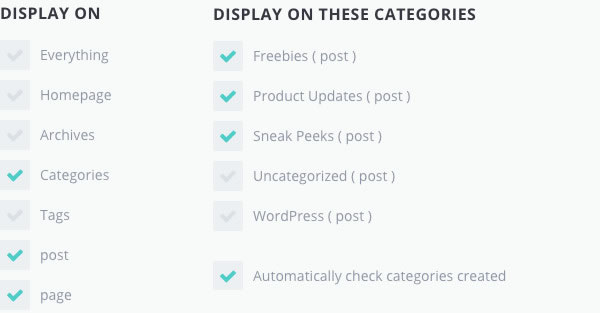 Then you can fine tune on a Per Post or Page basis
Having chosen to display your opt-in forms on specific post types and categories, you can still include or exclude individual posts or pages.
Look on this as an extra level of refinement, which gives you complete control over your opt-in's location.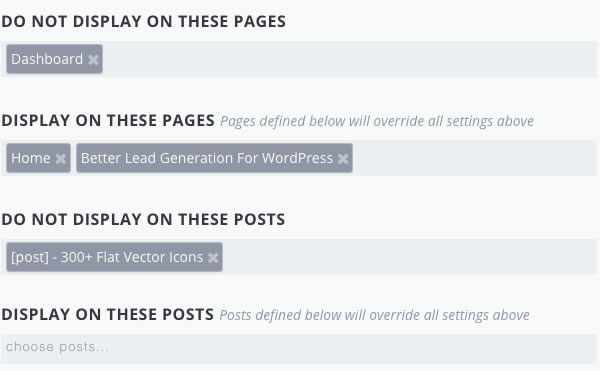 The Bloom dashboard for easy and intuitive access to all your opt-in forms
Elegant Themes have created a custom panel in the WordPress dashboard for easy and intuitive access to you Bloom accounts, lists, opt-ins, conversion rates, and data.
This interface makes creating, managing and modifying your opt-ins an absolute delight.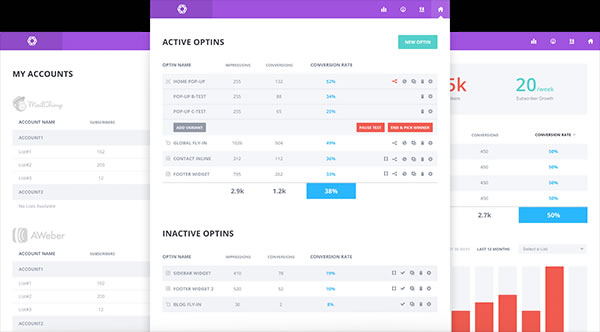 Add, Modify, and Track Accounts
You can add as many email marketing accounts as you like and Bloom will organise them by provider and aggregate the lists and subscriber counts that are associated with each.
When you build opt-in forms all you have to do is choose a list from one of your existing accounts or setup new accounts as you create your forms.
Duplicate Opt-Ins
With Bloom you can duplicate opt-in forms that you have previously created, which cuts down time and effort in the design process.
All you have to do is click the duplicate icon in the dashboard and choose which opt-in type you would like to duplicate it into. The new opt-in will retain all of your design and display settings.
This is a great way to make your various opt-in forms look consistent for various products, categories, post types or across your entire website.
Bloom comes with A/B Split Testing to help you increase conversions
Having created your awesome opt-in forms, how do you know which are the most effective?
No problem, Bloom comes with a Split testing feature that will improve the effectiveness of your opt-in forms by helping you decide which one is most effective.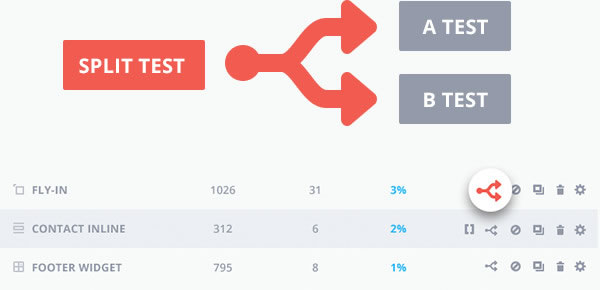 Unlimited Variations
Using the Bloom Split Testing system, you can create different variations of an opt-in to test different headlines, colours, offers, and user targeting.
These different variations will be shown to different visitors, and their conversion rates compared.
Over time you can see which one is getting the most sign-ups, and you can pick the highest performing variation to be your main version.

Conversion and Email List Statistics
If you want to refine and improve the way you are targeting your visitors you need easy to access, high quality and actionable information about your opt-ins and which are converting the best.
And that's exactly what you have with Blooms' statistics dashboard, which gives you a real-time overview of how each of your opt-in forms is performing.

And of course Bloom is responsive and retina ready
Your opt-in forms need to be readable and accessible on all devices, giving your visitors a great viewing experience and allowing them to opt-in no matter how they are viewing your site.
Blooms opt-in forms and dashboard are fully responsive, which means that they look fabulous on the smallest mobile devices and highest resolution screens.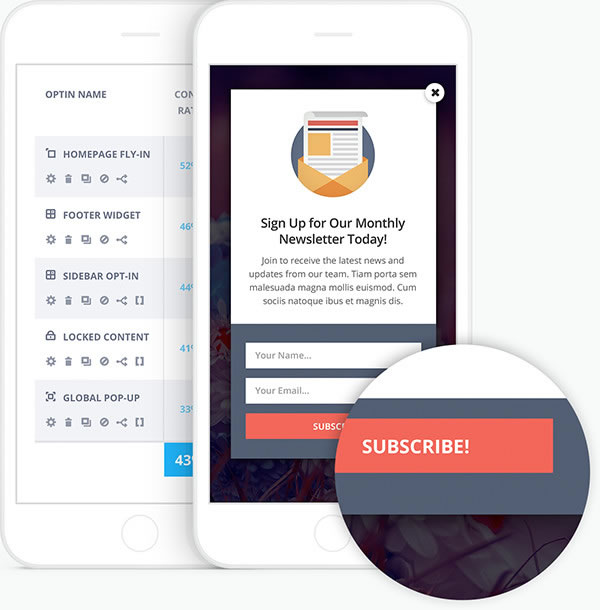 Bloom comes with awesome video and written documentation
Bloom comes with clear and comprehensive written and video documentation to enable you to create and edit your opt-in forms in double quick time.
Elegant Themes set the standard for plugin documentation when they released the Monarch social share and follow plugin and they have maintained that high standard with Bloom.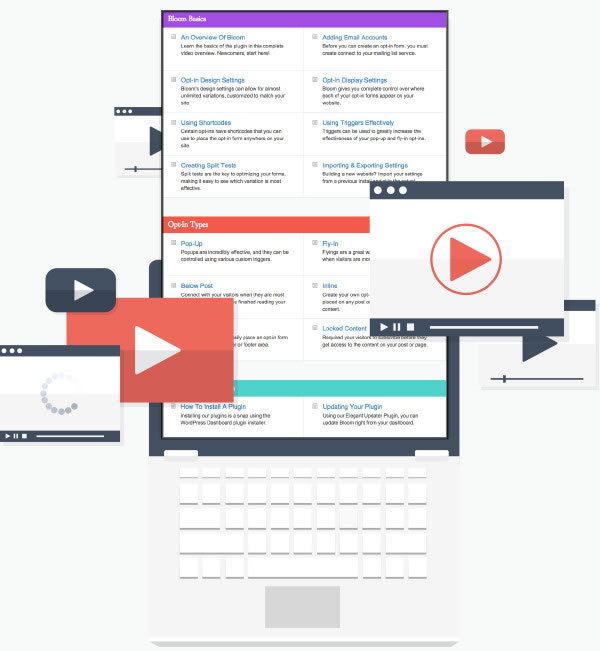 Start building your list today with the Bloom email opt-in plugin
Calling Bloom a WordPress email opt-in plugin, is like calling a Ferrari… a car.
Bloom is a complete email opt-in plugin that allows you to create, modify, display, test and monitor your opt-in forms all from an easy to use intuitive central console and that to me… sounds like a Ferrari.
To get started with Bloom, head over to Elegant Themes, check out all the plugins' features, review the pricing details, sign up and start building your list today.
Bloom, the plugin built to help your community blossom – We are no strangers to the importance of community, and we built Bloom to empower our customers to grow their own loyal followers. If you haven't started building an email list yet, you are putting yourself at a huge disadvantage! We are so excited to finally put Bloom into your hands, and we are confident that it will soon become an invaluable part of your marketing efforts. There is no better time than now to start building your list.
Download Bloom today and let us know what you think! We are looking forward to reading your comments and hearing your suggestions.
Nick Roach – Elegant Themes
I hope that you enjoyed the post and if you have any thoughts about email opt-in plugins in general or Bloom in particular then please leave a comment and if you'd like to spread the word about this fabulous plugin, please use the social sharing icons below.
Credits:
My thanks and gratitude to Elegant Themes for the video, graphics and details of the Bloom opt-in plugin used in this post.