The rapid growth in the popularity of Divi and the explosion of the Divi community has seen an equally rapid grown in the availability of premade Divi templates.
Premade templates save you time and effort and allow you to create websites in hours not weeks.
But not all of them are high quality, a lot are at best formulaic and at worst dated and dull.
Step forward DiviMonk, a team of creative designers and developers who have seen the potential of Divi and pushed it to its limits.
Divi Monk is the creation of Puneet Sahalot who I've known since my earliest days of web design.
Puneet is a seasoned web design professional, having honed his skills via Thesis and Genesis and now all Divi users can share in his wealth of experience in the form of DiviMonk's Premade Divi templates.
DiviMonk currently has a total of 136 templates, including: 40 Layouts / pages, 53 Sections and 43 Modules and in this post I'll take a closer look at their templates and explain why I think that you should be using them instead of all the other Divi template providers out there.

My Affiliate Links Disclosure
Hi everyone. Just to let you know that many of the links on this site are my affiliate links. What that means is that if you click one of them and buy something… I get a commission. It doesn't cost you anything extra and I only recommend things that I've tried and tested, so please, please, please… use my links.
An introduction to the DiviMonk plugin
DiviMonk is a premium WordPress plugin.
You install and activate it on your website and then you have access to all 136 professionally designed Divi templates: 40 Layout / page templates, 53 Section templates and 43 Module templates.
This short video by Surbhi Jain of DiviMonk, walks you through the process of installing, activating and using the DiviMonk plugin:

As you can see, once you install DiviMonk, you have access to all of the Divi templates, which are split into Layout / pages, Sections and Modules.
You can use the Layout / page templates to create pages in seconds or you can mix and match the Sections and Module templates to create your own.
All templates are fully responsive, so they look good on any device, and all are editable so that you can add your own text, images and styling.

DiviMonk white label branding
The Divi Monk Pro and Lifetime packages come with white label branding, which makes it the perfect template plugin to use for personal projects or on client sites.
You can change the plugin name, developer name and other details to completely reflect your own business branding.
This short video runs you through all the white label branding options:

As you can see the white label branding is pretty comprehensive.
It not only has basic functions such as changing the plugin name and branding but also more advanced functions such as hiding the branding options, hide the logo and even hide the plugin from the plugin list.
WHITE LABEL BRANDING is available in the Pro and Lifetime packages. You can change the plugin name, developer name, website, branding colours and even hide it from the plugins list.
DiviMonk
Divi Layout / page templates – 40 to choose from and more being added all the time!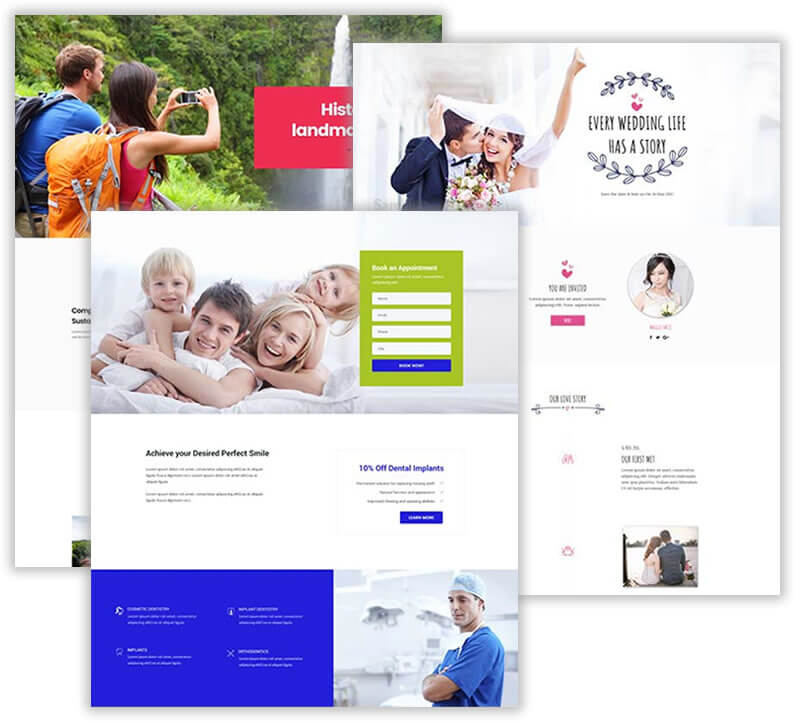 Layout / page templates allow you to create your own layouts in just a few mouse clicks and with 40 to choose from, there is one for just about every situation.
To create a page using Divi and the DiviMonk plugin:
From your WordPress dashboard go to Pages > Add New, give your page a title and click the big purple "Use The Divi Builder" button.
Click "Load From Library" and pick the DiviMonk template of your choice. The page will be loaded and all you have to do is add your own content, change styles as necessary and save the page.
Using premade page templates allows you to create pages in minutes not hours and complete websites in hours not days.

Divi Section templates – 53 to combine and create your own pages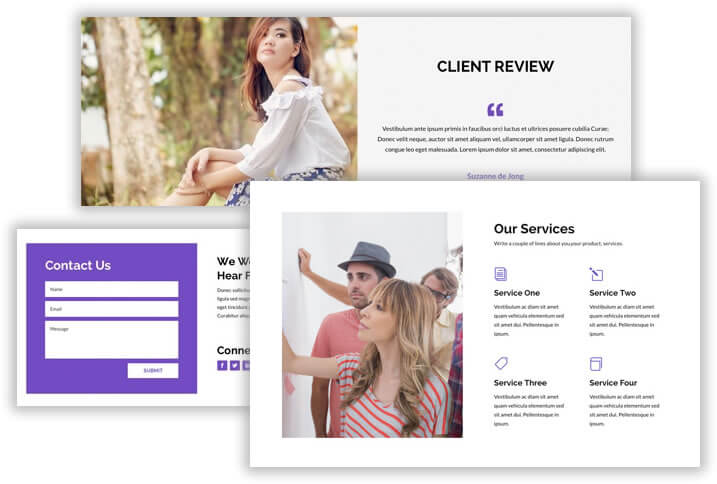 There are 53 Divi Section templates and they are split into five categories: content Sections, contact Sections, heading Sections, testimonial Sections and FAQ Sections.
The DiviMonk Section templates can be combined to create pages or they can be added to existing pages.
These are the sort of Sections that are used on almost every website and having a premade selection to choose from is a real timesaver.

Divi Module templates – 43 to choose from, all perfectly styled and ready to be added to your next project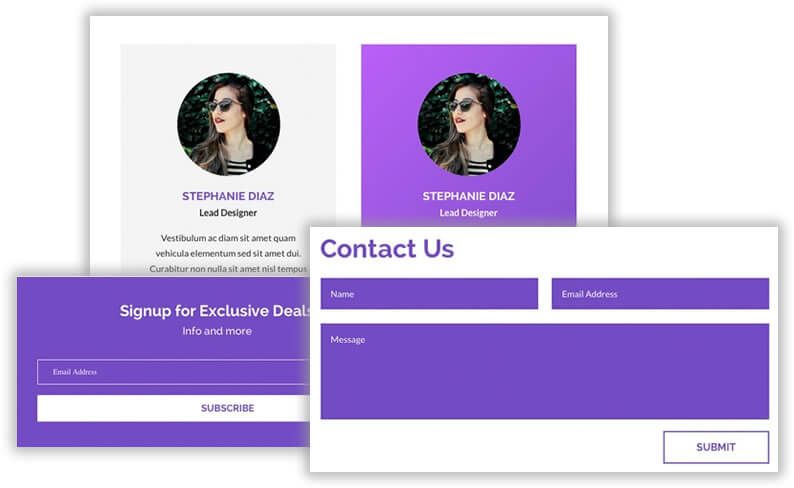 DiviMonk's 43 Module templates are split into five categories: Blurb Modules, Person Modules, Accordion Modules, Subscribe Modules and Contact Modules.
Although Modules are the smallest building blocks of Divi, they can take an age to create and style and these premade Modules will save you time, effort and a whole lot of frustration.
Add these Modules to pages, add your own content, modify the styles as necessary and you're all done.

Divi premade templates – why you should choose DiviMonk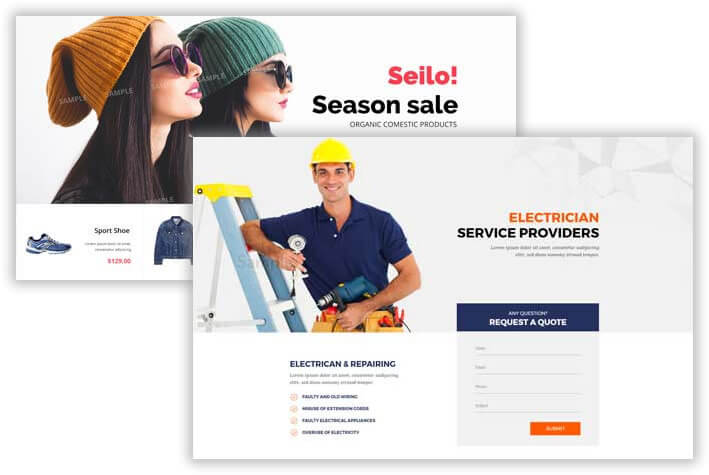 The main reasons that I recommend DiviMonk is that their templates are fresh and modern, you get a great choice of Page, Section and Module templates, the pricing structure is simple and easy to follow and they only deal in templates, nothing else, just templates.
Those are my main reasons for recommending DiviMonk, but here a few others:
WHITE LABEL – full white label options to add your own branding to personal projects or client sites.
PROFESSIONALLY DESIGNED – all templates are created by experienced designers so that you can use them straight out of the box.
CONVERSION ORIENTED – eye-caching designs that will grab and hold your visitors' attention plus balanced call to actions to generate more leads.
MOBILE RESPONSIVE – all templates are completely mobile responsive so they look good on all devices.
REGULARLY UPDATED – new templates added regularly to cover more subject areas and to keep up with web design trends.
You may find more specialized one-off templates out there, you may find packages, which contain more templates, but for all round quality, number, variety and choice, you won't beat DiviMonk.

DiviMonk – your one-stop-shop for premade Divi Layout / page, Section and Module templates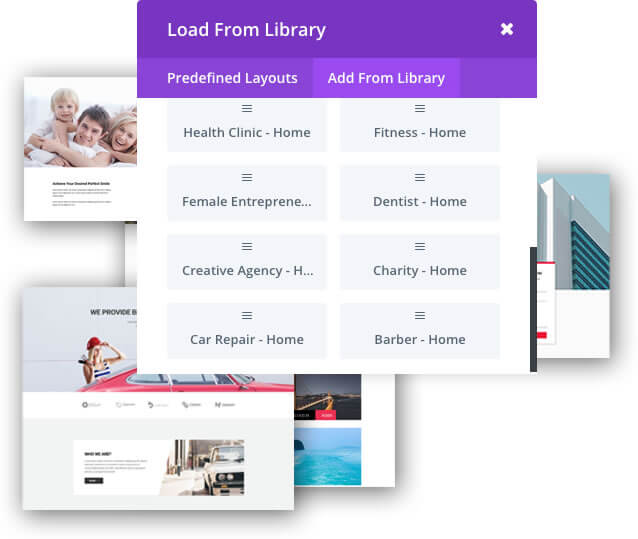 One of the great features of Divi is the ability to import templates into your Library and use them on your own projects.
Using Divi templates can save you days if not weeks of time, but not all Divi templates are created equal.
Divi Monk's design team have brought an elegant simplicity to the premade template market.
Their generous use of whitespace, choice of font pairings and use of contrasting call-to-actions has given us a collection of templates which look good, convert well and perfectly fit current website design trends.
If you'd like to use DiviMonk's templates on your own or your clients' websites then please use the link below.
Note! DiviMonk currently have a time-limited offer of 15% discount when you use Coupon Code MONK15
Get the DiviMonk premade Divi templates plugin.
Complete with a 15% discount when you use Coupon Code MONK15
N.B. this is a time-limited offer.
Not a Divi user yet?
If you're not a Divi user yet and you'd like to use Divi in combination with DiviMonk's premade templates, on your next project, then please feel free to use my Divi theme 10% discount link below.
401,632 Customers Are Already Building Amazing Websites With Divi. Join The Most Empowered WordPress Community On The Web
We offer a 30 Day Money Back Guarantee, so joining is Risk-Free!
Elegant Themes
Join Elegant Themes and download the Divi theme today.
Complete with a 10% discount!
Credits:
My thanks and gratitude to DiviMonk for the videos and graphics of the DiviMonk plugin used in this post.