They do say that the web never sleeps but not only does it never sleep, it constantly changes, evolves and reinvents itself.
And that's why you should be using a WordPress theme that keeps up with these changes and allows you to take advantage of cutting edge developments.
To keep you up to date and to make sure that you have the latest WordPress resources at your fingertips, Elegant Themes have set out a five-point plan to make Divi the "theme to beat" in 2017.
In this post, I'll run through their 2017 initiatives and provide you with a few links, which will help you keep up with developments.

Elegant Themes big Divi game plan for 2017
Elegant Themes are looking to make the Divi community "The Most Empowered Community On The Web" and to achieve that they have set out a five point plan.
This "Divi Nation Short" video by Nathan Weller explains exactly what Elegant Themes are trying to achieve and the plans they have in place to make it happen.

It's good to see that the Elegant Themes / Divi development team have a clear goal and it's even better to know that they have detailed plans to achieve that goal.
Now let's take a look at their five-point plan in detail.
Let's Do 2017 Together!
As you can see, we're really excited about 2017 and we hope you are too. We're really looking forward to sharing another great year with the entire community.
Nathan Weller – Elegant Themes
#1 – The Divi Developer Release: improvements to underlying code plus new developer documentation

The Developer Release has taken a back seat to the launch of Divi 3.0 but now that Divi 3.0 is running smoothly, it's full steam ahead on the Developer Release.
The Developer Release will come with lots of improvements to the underlying code of the Divi framework and will provide all new developer documentation that will make the job of third party Divi developers much easier.
#2 – Updates of all core family products built around Divi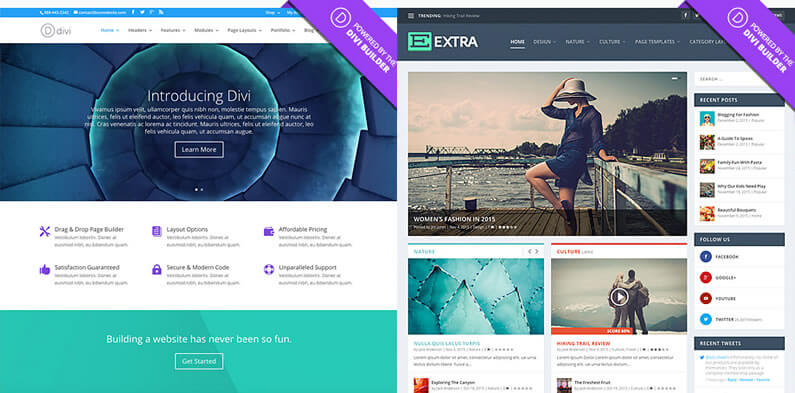 Elegant Themes have developed a core "family" of products built around Divi, which includes: the Divi theme, the Extra magazine theme, the Divi Builder Plugin and two complementary plugins: Bloom and Monarch.
Bloom is an email optin plugin and Monarch is a social sharing plugin.
I use both of these plugins on this site and I love them. Not only do they look good but they also get results.
All these products are kept up to date with regular minor releases, but in 2017 there will be an across the board code clean-up and many feature updates.

#3 – The Divi Marketplace: a whole new kind of career opportunity for Divi users

Using Divi has allowed non-coders to design websites that were once the province of dedicated designers or developers.
And some of them have felt so confident in their new abilities that they have started businesses selling their services as Divi web designers and developers.
Divi community members have also created Divi Child Themes, Divi Layout Packs and Divi Plugins that the rest of the community can use to extend the power of Divi.
By creating a centralized marketplace, that includes third party Divi developers, Elegant Themes hope to supercharge the Divi economy and create a whole new kind of career opportunity for Divi users.

#4 – Divi community meetups: meet lots of other Diviers
2016 saw the beginning of Divi community members meeting each other face-to-face.
Through WordCamps, around 80 passionate community members were able to meet each other and members of the Divi / Elegant Themes development team.
In 2017 Elegant Themes, would like to increase the number of in-person interactions by creating meetup resources for local hosts all over the world.
This would allow them to create and organise "Divi Nation" Meetup events.
The ultimate goal is to make it possible for all 385,000+ Elegant Themes members to have the kind of special in-person experiences that roughly 80 users got to have in 2016.

#5 – Free Daily Divi Resources – 365 by December 31st 2017

And finally, in 2017 Elegant Themes will be creating and giving away free Divi resources every day of the year. That means 365 new, free Divi resources by December 31st 2017.
If you like the sound of that, all you have to do is stay tuned to Elegant Themes' blog, YouTube channel and Facebook page using the links below:
Make 2017 the year you joined the Divi community and started using Divi
Since its release in December 2013, Divi has not only become Elegant Themes' bestselling theme, it's also become one of the most popular WordPress themes of all time.
With continued development like this, it looks set to maintain that position in 2017 and well beyond.
Permanent offer for 10% off Divi / Elegant Themes new memberships and account upgrades
If you'd like to get involved with the Divi community and start using Divi, then please feel free to use our permanent 10% off discount below.
The deal applies to both new memberships (Developer license only) and account upgrades and you can take advantage of it anytime you like.
Credits:
My thanks and gratitude to Elegant Themes for the video and graphics used in this post and for offering this generous 10% off deal.