Since its release in December 2013, Divi has not only become Elegant Themes' bestselling theme, it's also become one of the most popular WordPress themes of all time.
And it's easy to see why.
Divi allows you to create the website of your dreams, without touching a single line of code, using the drag-and-drop interface of the Divi Builder.
You can use the Divi Builder in your WordPress dashboard or on the actual pages of your website and the result is a site that is 100% responsive and looks good on desktop, tablet and smartphone.
But just a minute, aren't drag-and-drop themes bloated with code, which leads to slow load times and doesn't that have an impact on your search engine optimisation results?
The quick answer is that Divi is in no way bloated with code, this Divi site is one of my fastest loading sites and my SERPS results knock spots off most of my competitors.
For a more detailed answer read on dear friends… read on.

My Affiliate Links Disclosure
Hi everyone. Just to let you know that many of the links on this site are my affiliate links. What that means is that if you click one of them and buy something… I get a commission. It doesn't cost you anything extra and I only recommend things that I've tried and tested, so please, please, please… use my links.
Divi is the flagship product from Elegant Themes It's one of the most popular multipurpose WordPress themes, and for good reason. Not only is Divi packed with pre-built page layouts for every type of project, it also includes one of the most powerful and user-friendly point-and-click page builder tools around, the Divi Builder.
WinningWP
Google, page speed and search results
Page Speed is one of the metrics that Google uses to determine how well you perform in the SERPS. So if you want to rank highly, your pages have to load quickly.
Of course you have to do a lot more, but more of that later.
If your pages load quickly not only will they rank better, they will convert better, have a lower bounce rate and have a higher average time on page.
Google has indicated site speed (and as a result, page speed) is one of the signals used by its algorithm to rank pages.

In addition, a slow page speed means that search engines can crawl fewer pages using their allocated crawl budget, and this could negatively affect your indexation.

Page speed is also important to user experience. Pages with a longer load time tend to have higher bounce rates and lower average time on page.
Longer load times have also been shown to negatively affect conversions.
Moz Blog
So now that you know that Page Speed is a Google ranking factor, which in turn affects your position in the SERPS, let's take a closer look at how Divi measures up for Page Speed and Search Engine Optimisation.

Divi theme and Page Speed – with the right setup, it can fly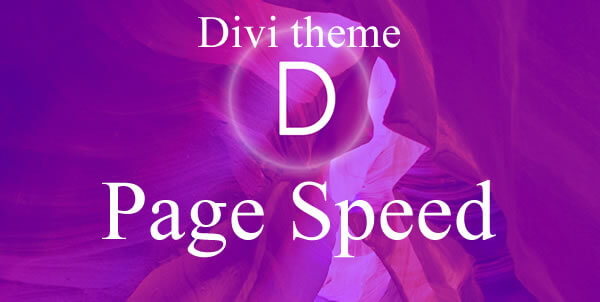 If you were looking for a WordPress theme that had a reputation for lightning fast load times, maybe the Divi theme wouldn't be your first choice.
Perhaps you'd choose a theme running on the Genesis theme framework, which is well known for lean code and super fast load times.
Well I use both Genesis themes and Divi and when I last checked, one of my Divi sites was faster than all the Genesis ones!
And if you want another take on just how fast the Divi theme is, check out this fabulously detailed article: How to get a perfect PageSpeed score and speed up WordPress
The only problem I could imagine with Divi is it doesn't have the speedy reputation that other themes do. I have discovered that reputation to be completely false.
With the right setup, it can really haul ass.
Dreamtime Images blog post
There's a lot of detailed information in the article on how to speed up your site, but the main points are:
Use a fast WordPress theme – I think that you'll find the Divi theme is plenty fast enough.
Choose fast hosting – if your host has slow outdated servers your site will never be fast. Do a little research and choose your host wisely.
Crop and optimise your images for the web – always use The Best Divi Image Sizes for the column layout you are using. You should also optimise your images for the web using something like Smart PNG and JPEG compression also known as TinyPNG.
Enable Gzip compression – Gzip compression is a method of compressing files (making them smaller) for faster network transfers. You can enable compression via .htaccess and you can check that it's working using the Check GZIP compression tool.
Use a good caching plugin – caching plugins create static versions of your content and deliver it to visitors. This reduces page loading time significantly. I use the Comet Cache Pro plugin but there are lots to choose from, both free and premium.
You can spend a long time shaving milliseconds off of your page speed times but if you follow the suggestions above you should see pretty good results.

Divi theme and SEO – combine Divi with Yoast SEO and you'll soar in the rankings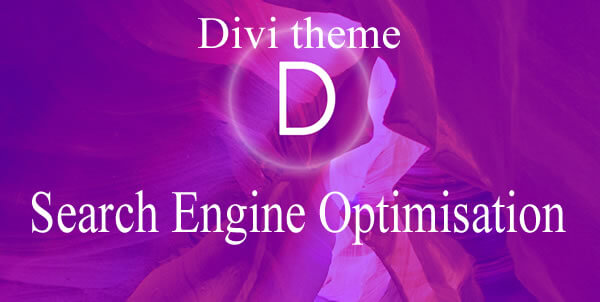 If you've implemented my suggestions above your site should be loading pretty smartish and Google will be looking on your rankings more favourably.
But there's more to SEO than page speed, so let's take a quick look at what else you should be thinking about for good SEO.
Search Engine Optimisation bits and pieces
I'm assuming that you've already picked a domain name, for your site, that contains your main keywords but you still have to decide on keywords and keyword phrases for each of your pages and posts.
For each of your pages and posts, those keywords and keyword phrases should appear in your headings, title, meta description, alt text for images and sprinkled throughout your content.
I'm not talking about "keyword stuffing" I'm talking about writing great content but adding a light sprinkling of your keywords.
You should also add an XML sitemap to your site and submit it to Google via Google Webmaster Tools, whenever you add new content.
Yoast SEO WordPress plugin
To help with your SEO efforts I recommend using the Yoast SEO WordPress plugin.
This is a must have plugin, which allows you to add an XML sitemap, add post titles and meta descriptions and a whole lot more.
For setting up the Yoast SEO plugin take a look at Yoast SEO: An Easy to Follow Setup Guide.
For an in-depth discussion of SEO for WordPress check out Yoast's WordPress SEO – The definitive guide to higher rankings for WordPress sites.
And if you're new to SEO check out The Beginner's Guide to SEO over on the Moz website.

Divi theme for great page speeds and fabulous rankings in the SERPS
The Divi theme proves that added functionality need not lead to code bloat, reduced page speeds and low rankings in the SERPS.
Even with both back-end and front-end drag-and-drop editors, Divi still delivers high end page speeds and if you follow my page speed suggestions above, you'll be up there with the fastest sites.
If you also use the Yoast SEO plugin to add an XML sitemap and add post titles and meta descriptions, you'll take your SEO to the next level.
Permanent offer for 10% off Divi / Elegant Themes new memberships and account upgrades
If you'd like to use the Divi theme's no-coding drag-and-drop interface for your next website then please use our permanent 10% off discount below.
The deal applies to both new memberships (Developer license only) and account upgrades and you can take advantage of it anytime you like.

Get 10% Off New Memberships & Account Upgrades!
This is a permanent offer for new memberships (Developer license only) and account upgrades so even if you missed all the other Elegant Themes "time limited" deals… this one will always be waiting for you.
Credits:
My thanks and gratitude to Elegant Themes for the graphics used in this post and for offering this great 10% off deal.